Viet Nam's 2006 National Golf Championship will take place in June instead of this April as originally scheduled, the organizers have announced.
The Saigon Times Group and T&A Vietnam Co. earlier planned to organize the tournament from April 20 to 23 but have re-scheduled this event to June 15-18. The venue is also the Dalat Palace Golf Club in the Central Highland city of Da Lat, same as last year in the first National Golf Championship.
The organizers say they are now still negotiating with companies about sponsorship deals, and not all of the deals have been concluded. 
The four-day tournament is acknowledged by the National Sports Committee and the National Olympic Committee as an annual official sport event.
Ho Chi Minh City golfer Huynh Van Son, with a handicap of zero, will defend his championship against other top golfers of Viet Nam, said Mr. Pham Kim Hung, tournament vice chairman.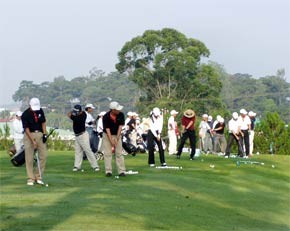 More than 70 Vietnamese golfers competed in the first National Championship last year in Da Lat City (Photo: Tuong Thuy)
The Dalat Palace Golf Club, the tournament venue, is the first golf course built in Viet Nam. King Bao Dai, the country's last emperor, built it during the 1920s with nine holes. Danao International Holding Ltd. of the US became the new owner of the golf course in the early 1990s and re-opened it in 1997 with 18 holes. The course is surrounded by rolling hills of pine trees and looks down to stately Xuan Huong Lake in the downtown area.
Danao International, one of the sponsors in the 2005 championship, will continue sponsoring this year's championship, said Danao International vice president Jeff Puchalski, also the tournament chief executive and vice chairman of the American Chamber of Commerce in Ho Chi Minh City.
Golf is still a new sport in Viet Nam and only high-income people can afford to play it frequently.