NEW YORK, Sept 13, 2010 (AFP) - World number one Rafael Nadal completed a career Grand Slam title sweep on Monday by capturing his first US Open crown, defeating Serbian third seed Novak Djokovic 6-4, 5-7, 6-4, 6-2.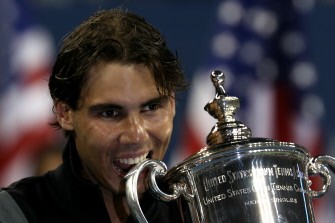 Nadal bites his championship trophy on September 13, 2010. AFP
The 24-year-old Spanish left-hander overwhelmed Djokovic with uncanny shotmaking to win the 1.7 million-dollar top prize as well as his third consecutive Grand Slam crown and his ninth Grand Slam title overall.
Nadal became the seventh man to complete a career Grand Slam sweep, joining Roger Federer, Andre Agassi, Roy Emerson, Rod Laver, Don Budge and Fred Perry in having won Wimbledon and the US, French and Australian Open titles.
"It's a dream to have the career Grand Slam, but this is more dream to have the US Open," Nadal said.
"Is unbelievable feeling because I worked a lot all my life, in all the difficult moments, to be here but I never imagined having the four Grand Slams.
"This one is very special to me because it was the last one remaining."
Showers pushed the final to Monday for the third year in a row and halted the match for one hour and 48 minutes, a rain delay that only delayed Nadal's reign on the Flushing Meadows hardcourts.
"For the first time in my career I played a very good match at this tournament," Nadal said. "I played my best match in the US Open at the most important moment and I'm very happy for this."
A ninth Slam title moved Nadal alone into seventh on the all-time list -- pssing Agassi, Perry, Ken Rosewall and Ivan Lendl and just seven shy of Federer's all-time record, three ahead of Federer's pace at the same age.
"It's too far - 16 for me, it's too far right now," Nadal said. "It's the same (goal) - keep improving and be a better player."
After winning Wimbledon and the French Open earlier this year, Nadal joined Federer, Laver and Pete Sampras as the only men to win three Slams in a row in the Open Era that began in 1968.
"He has all the capabilities to be the greatest ever," Djokovic said. "He's playing the best I've ever seen him play on hardcourts. He has the game now for each surface. He has won each major. He has proven to the world he's the best."
No Spanish man had won the US Open title since Manuel Orantes in 1975 and the only other Spanish US Open champion was Manuel Santana in 1965. Not since John McEnroe in 1984 had a left-hander had won the US Open men's title.
Nadal was broken only five times in the tournament, matching the mark for fewest broken serves by a US Open men's champion set by Andy Roddick in 2003.
Djokovic, whose lone Grand Slam title came at the 2008 Australian Open, had won his three prior matches against Nadal, all on hardcourts, but has still never defeated the Spaniard in a final or at a Grand Slam event.
Nadal improved to 9-2 in Slam finals, his only losses coming to Federer at Wimbledon in 2006 and 2007, and 15-7 against Djokovic, who saved 20-of-26 break points against him but could not combat Nadal's relentless performance.
After the rain delay, Djokovic held and broke Nadal to claim the second set, the Spaniard spraying a backhand wide and netting a forehand to drop his only set of the tournament.
"When he's playing at his best he's very difficult to stop," Nadal said.
Nadal responded with exceptional shotmaking in the third set, breaking Djokovic for a 2-1 lead.
Djokovic fought off three break points in the fifth game and five more in the seventh, but Nadal held twice more to claim the third set and broke Djokovic in the third game of the fourth set to tighten his grip on victory.
"There were some moments in the third and fourth sets where I dropped my focus a little bit and he took (the match) away from me and I never had a chance to get it back," Djokovic said.
Djokovic netted a forehand to hand Nadal a break and a 4-1 lead and when the speedy Serb missed a break chance when a forehand went long, his last gasp was done, Nadal holding twice more to make history.
The magical moment came after three hours and 43 minutes when Djokovic hit a forehand wide. Nadal put his face in his hands and fell to the ground on his back, then rolled over and savored the moment.
After receiving congratulations from Djokovic at the net, Nadal dropped to his knees on the court and raised his hands in victory.
"It was an amazing feeling," Nadal said.
Djokovic surrendered a break on Nadal's sixth break-point of the fifth game and held from there to take the set.
Nadal was 107-1 in prior Grand Slam matches when winning the first set and 91-0 when taking the first two sets, arousing Djokovic's urgency.
Djokovic broke Nadal at love to lead 3-1 but Nadal broke back in the seventh game and was at 4-4 when rains hit, halting play for one hour and 48 minutes.