The Philippines stunned Myanmar with a scoreless draw in the Asean Football Championship on Tuesday. This major shock enabled Malaysia to reach the semifinals despite their loss to three-time winners Thailand in the other match played concurrently.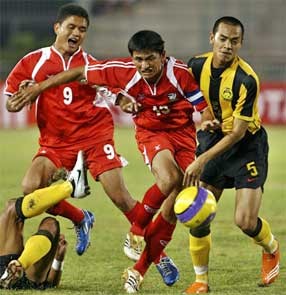 Thailand captain Kiatisak Senamuang (C) fights for the ball with Zanani Misbah of Malaysia on Tuesday in Bangkok
The Thais topped Group A with a hard-fought 1-0 victory over Malaysia in Bangkok. A headed goal from striker Sarayoot Chaikamdee in the beginning of the second half put Thailand on top with seven points.
Thanks to the Philippines major shock, Malaysia also progressed in with four points.
Thailand and Malaysia will not know their opponents in the knockout stage until Wednesday when Viet Nam take on Laos and two-time champions Singapore meet Indonesia in Group B in Singapore.
Defending champions Singapore put themselves in the driver's seat for qualification with an 11-0 massacre over Laos on Monday after Viet Nam drew 1-1 with reigning runners-up Indonesia.
Both Singapore and Indonesia have four points while Viet Nam possess only two after two draws. If Viet Nam beat Laos and the other game ends in a tie, Indonesia, Singapore and Viet Nam will have five points each and their positions will be decided by goal difference. The two matches will be played concurrently.
Hosts Singapore and Indonesia have to battle for survival. Victory is a must for the latter if they are to continue with their proud tradition of having made the semi-finals in all previous four editions of the regional championship. However, Singapore hold more advantages due to a plus 11-goal difference.
Meanwhile, the Vietnamese players need to net three clear goals to guarantee their semi-final ticket. Many Vietnamese fans think their team can make it simply because Laos do not have the all-round strength to prevent their opponents.
Related article
Viet Nam Draw with Indonesia, Hope for Semifinals