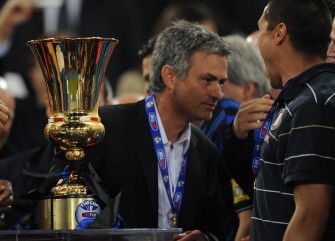 Inter Milan's Portuguese coach Jose Mourinho with the 2010 Italian Cup Trophy (AFP file)
MADRID, May 19, 2010 (AFP) - Inter Milan's Portuguese coach Jose Mourinho said Wednesday he wants to coach Real Madrid '100 percent' but is not sure when it will happen.
"I want to coach Real Madrid 100 percent. Whether it's next year or later, I can't say," he said in an interview published Wednesday in Spanish sports daily Marca.
"A coach or a great player who does not play at a club like Real Madrid would leave a void in their career. My only options are Real Madrid or Inter," he added.
His comments come as Inter are preparing for their biggest match in 38 years as they face Bayern Munich in the Champions League final in Madrid on Saturday - their first final in this competition since 1972.
Mourinho said he would take "two or three days to think calmly about his future" after the final.
Spanish media have reported that the 47-year-old is the favourite to replace Chile's Manuel Pellegrini at Real after the club finished in second place behind arch-rivals Barcelona despite spending some 250 million euros in new talent before the start of the season.
Last week he said that "sooner or later" he would coach Real.
"I coached a big team in England, I am coaching a big team in Italy, and then I will coach a big team in Spain," he said.
Mourinho has won six national league titles over the last eight years -- two each with Porto, Chelsea and Inter.