ROME, May 8, 2010 (AFP) - AS Roma coach Claudio Ranieri accused Inter Milan counterpart Jose Mourinho of planting a time-bomb while the Portuguese coach retorted by goading the 'Tinkerman' for his Chelsea record as the insults flew ahead of the Serie A title run-in.
Inter lead Roma by two points with two matches left and also struck the psychological blow of beating Roma 1-0 in the Italian Cup final on Wednesday, in Rome.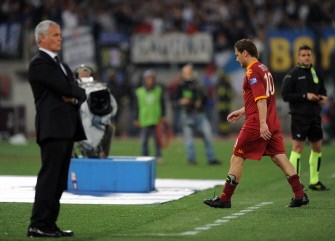 AS Roma's forward Francesco Totti (C) leaves the pitch after getting a red card as coach Claudio Ranieri looks on during their team's Italian Cup final against Inter Milanon May 5, 2010 at Olimpico stadium in Rome. AFP PHOTO
After that match Mourinho angered Roma by suggesting that the win bonuses they had saved on not claiming the cup could be offered to Siena to encourage them to beat Inter on the last day of the season.
But Ranieri claimed such talk was treading dangerous ground.
"This is a type of football that I don't like. I'm different, I like respect and I give respect," said Ranieri.
"Here in Italy things are changing too much, I don't know where we're going.
"It's too easy to create a group and motivate them by playing the under siege card.
"I prefer to win another way because sport is an important vehicle in Italian society.
"These sorts of things are time-bombs. I'm a football man, I like playing football and that's how sport should be."
Speaking in a press conference ahead of the visit of Cagliari on Sunday, Ranieri was asked if Mourinho is a phenomenon.
"It's you journalists who make him into a phenomenon, for me he's a good coach, and that's all I'm saying," he said.
Mourinho, who has travelled to Berlin to run the rule over Champions League final opponents Bayern Munich, responded in a statement on Inter's website by mocking Ranieri's record at Chelsea.
"I've never said that I'm a phenomenon but it's certainly not my fault if in 2004, after arriving at Chelsea and having asked why they had got rid of Ranieri, they told me that they wanted to win and that would never have happened with him," he said.
Mourinho also hit back at Ranieri's previous accusations about the behaviour of the Inter players during the final.
"Wednesday night Roma should have finished with six players given that (Philippe) Mexes, (Francesco) Totti, (Simone) Perrotta, (Rodrigo) Taddei and (Nicolas) Burdisso did enough to deserve sanctions that would not have allowed them to stay on the pitch," he said before then mocking rumours that Roma had watched Gladiator to motivate them ahead of the match against the physical Inter team.
"Today we're talking about how to motivate players. That's something that's done every day while working with the group in one training session after another.
"That's not done by putting a team in front of a film before a Cup final. Players are serious professionals, they shouldn't be treated like children.
"We prefered to work on the pitch and we diligently studied Roma's weaknesses.
"If before a match I put my players in front of Gladiator they would start laughing and call the doctor and tell him I'm ill."
Inter host Chievo on Sunday before travelling to Siena next weekend while Roma's last match is away to Chievo.