PARIS, Feb 22, 2011 (AFP) - Jose Mourinho's dreams of landing the Champions League for the third time as a coach remained firmly alive on Tuesday after Real Madrid secured a 1-1 draw away at French bogey team Lyon in their Last 16 first leg clash.
One of Mourinho's former teams Chelsea - a rarity in that he couldn't guide them to Champions League title success unlike at Porto and last year Inter Milan - got a crucial 2-0 away win against FC Copenhagen with former Real Madrid striker Nicolas Anelka getting both.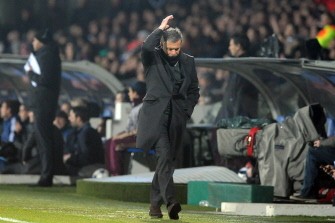 Real Madrid's coach Jose Mournhio reacts during the Champions League football match Olympique de Lyon versus Real Madrid on February 22, 2011. AFP
The win couldn't have come at a better time for embattled Italian manager Carlo Ancelotti, whose side realistically can only hope for this as a potential trophy but if successful would deliver the one that Russian owner Roman Abramovich has always desired more than any other.
Real had victory in their sights when Lyon old boy Karim Benzema came off the bench for the disappointing Emmanuel Adebayor and scored within a minute - Bafitimbi Gomis was to grab an equaliser seven minutes from time to make up for missing an open goal in a first-half the hosts dominated.
However, Mourinho - who is hoping to take Real further than they have in the competition for the past seven years - was left fuming by what he believed was a glaring error from experienced German referee Wolfgang Stark.
Cristiano Ronaldo saw a second-half freekick strike the arm of Yoann Gourcuff in the Lyon - who have yet to be beaten by Real in seven encounters - wall.
Mourinho leapt from the bench to complain at Stark's failure to award a penalty and he returned to the incident in his post-match press conference.
"It's difficult to be a referee and there are errors in matches that are due to fatigue or slowness to react. These are the errors we have to accept," said Mourinho.
"After, there are other errors that you can't accept. There was a free-kick and in the slow-motion replay you can see it clearly.
"I was 50 yards away and I could see it. He (Stark) was five yards away with all his assistants and he didn't. I don't understand.
"It could still be decisive in the tie. I just hope it won't be."
His Lyon counterpart Claude Puel regretted his side's failure to put away their chances in the first-half as they seek to at least repeat their semi-final performance last year.
"At home in the first leg, we would have preferred them not to score. It's a bit of a shame, especially because we played a great first half," said Puel.
"At times we were a bit lacking in the final ball, be it the final pass or the final shot.
"In the first half they created very few chances. We were less solid defensively at the beginning of the second half, but we were able to pull the game back at the end.
"It will give us confidence ahead of the return leg, even though we would obviously have preferred not to have conceded a goal to them."
Anelka's 15th and 16th goals of the season put Chelsea on course for the quarter-finals and they should have no trouble finishing off the lacklustre Danish champions in the return at Stamford Bridge next month.
It was a crucial victory for Ancelotti - the club's first in four matches including a penalty shootout loss to Everton last Saturday in the FA Cup - as the Chelsea manager fights to save his job following a woeful run of results which left the Blues in turmoil.
"Yes obviously (this is a significant result), but we know this is football, we have to be able to move on quickly from a bad result," said the amiable Italian.
"It was a good result and performance. We prepared well for this game and we played good football but we still have to pay attention for the second leg.
"There is a good motivation from the players in this competition and that is important because we want to do well. We are still alive!"