ROME, Sept 8, 2010 (AFP) - Inter Milan president Massimo Moratti dismissed speculation linking Brazilian star Kaka with a move to the nerazzurri.
Wednesday's Corriere delo Sport claimed Moratti had been in touch with former boss Jose Mourinho, now coach at Real Madrid, over a possible deal for the 28-year-old.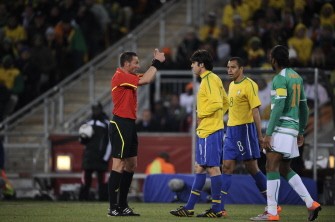 (AFP file) Brazil's Kaka (C) receives a red card in the 2010 World Cup match against Ivory Coast in June
But Moratti said that's just nonsense.
"It could be a good idea but it hasn't come from us, I also read about it this morning in the newspaper," he said.
"I've never had any contact with Mourinho."
Kaka used to grace the San Siro but in the red and black of AC Milan and a move to Inter would cause quite a stir in the city.
However, the Italian press has become enchanted by such possibilities following former Inter star Zlatan Ibrahimovic's move from Barcelona to Milan.