BUENOS AIRES, July 7, 2011 (AFP) - Having perennial favourites Brazil in your group at the Copa America can be seen as a blessing or a curse.
But if you are one of Latin America's small fry, it could be more of the former, as playing the auriverde certainly motivated Venezuela.
The Vinotinto's goal-less draw against the most successful country in the history of football was a shot in the arm for the underdogs of the continent and has shown that, first off, Brazil are not always hot stuff, and secondly, the little guys would do well to remember happened to Goliath.
Given Venezuela's recent results against Brazil -- goal-less draws in the Copa and a 2009 World Cup qualifier, as well as a 2-0 friendly victory -- the country, normally far more obsessed with baseball than football, appears to be ready to start shedding the minnow tag.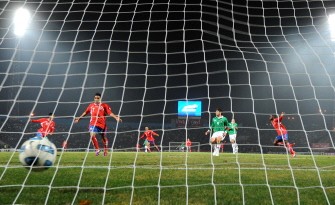 Costa Rican forward Joel Campbell (R) celebrates after scoring against Bolivia during a 2011 Copa America Group A match on July 7, 2011. Costa Rica won 2-0. AFP
Young players are coming through and they showed some nice touches aganist Brazil in cold conditions that did not suit them any more than the five-time world champions.
The Vinotinto actually made the last eight in 2007, but that was on their own turf. Doing the same in an Argentinian winter would be a true feat for them and a win against Ecuador, which would take them to four points, would surely be enough to book their slot in the next round.
Ecuador held Paraguay but are, amid Venezuela's rise up the rankings, perhaps the weakest side in the group -- though the FIFA rankings currently have them right next door to each other at 68th for Ecuador and 69th for Venezuela.
A decade ago, the Venezuelans were ranked 120th, so they have come on strongly since.
The trouble is that an upwardly mobile tarjectory is in itself a bit of a problem, explains Colombian-based forward Luis Seijas.
Expectations are now higher than ever and hence "this game, for me, is going to be tougher than Brazil."
"You can feel the pressure is on to win. It's tougher than Brazil because the onus is on you not to sit back and defend but go out and attack.
"We have to go out and chase a big result which will take us through. Saturday is very important for us," Seijas said.
"The Brazil game was too but if we get nothing from Saturday then the point from that will be worthless. We will see Saturday if the Brazil result was important."
Defender Jose Manuel Rey says since the Brazil game "you realise that if you don't fall victim to complacency you can stop any opponent."
Ecuador will hope that Antonio Valencia of Manchester United can get over the ankle injury he sustained in his side's opener with Paraguay.
Without the Manchester United star, the Andeans may struggle in Salta if Venezuela can plug into the confidence gained from holding the Brazilians.
Valencia dislocated and broke the same ankle last September during a Champions League outing.
For Ecuador coach Reinaldo Rueda, Venezuela are "very strong and very difficult to play against."