ROME, May 15, 2010 (AFP) - AC Milan thrashed Juventus 3-0 for the second time this season to finish a disappointing season on a high and condemn their rivals to more misery in an already dismal year.
A goal from left-back Luca Antonini and a brace from Ronaldinho, who reminded Brazil coach Dunga what he will be missing at the World Cup in South Africa, turned the San Siro into a party on Saturday night.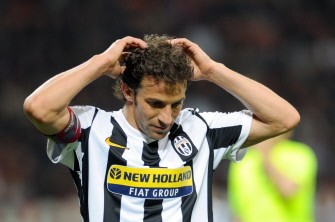 Juventus forward Alessandro Del Piero reacts as he plays against AC Milan on May 15, 2010. AFP PHOTO
The former world player of the year said he had nothing against Dunga for the snub.
"My response was here on the pitch, but if he doesn't pick me for the national team it's his choice and I respect that," he said.
"I've done many good things this season and I don't want to compare myself to others to see if I've done much more or much less, I'm calm."
Milan consolidated the third place they had already secured while Juve's record number of defeats in a Serie A season rose to 15, with their 56 goals conceded also a new club record.
It also left them in seventh place in the table.
This match was remarkable for being between two teams that had already decided to replace their coaches at the end of the season, making it a swansong for Milan's Leonardo and Juve's Alberto Zaccheroni.
While Zaccheroni had only been signed in January on a deal until the end of the season, Leonardo was midway through a two-year contract but seems to have been forced out by Milan president Silvio Berlusconi, the Italy Prime Minister.
The fans showed exactly where their loyalties lay before kick-off, expressing their support for Leonardo and the players while venting their fury at Berlusconi.
Juventus started the game well enough as Vincenzo Iaqunita got away inside the box on four minutes but dragged his shot just wide of the far post.
Juve goalkeeper Gianluigi Buffon had to save with his feet from Ronaldinho before the hosts moved ahead on 14 minutes.
And it was a goal that showed just why Juve have been struggling so much this season.
Three times in midfield Juve came out second best in 50-50 challenges resulting in Antonini finding himself with the ball in front of the back four.
He slipped it to his right to Clarence Seedorf and continued his run forward past Fabio Cannavaro, who had been dragged out of position, while the Dutch midfielder flicked the ball over the defence with Cannavaro's centre-back partner Giorgio Chiellini closing him down.
The result was a huge gaping gap into which Antonini ran and although Cannavaro got back to make a sliding challenge at the last moment, he succeeded only in deflecting the full-back's shot beyond Buffon's reach.
It was two on 28 minutes after more poor Juve play as Christian Poulsen's pass was cut out by Ronaldinho, who burst forward and although his pass was cut out by Fabio Grosso, the Juve left back dallied as Cannavaro watched.
Ronaldinho stole back the ball before playing a one-two with Pato and then beating Buffon at his near post.
That finally got a reaction out of Juve and Alessandro Del Piero forced goalkeeper Dida to tip over his rising drive while Cannavaro headed a cross narrowly wide.
But more inept defending cost Juve midway through the second period as Gianluca Zambrotta's right-wing cross found it's way to Ronaldinho at the back post and Poulsen stood off him long enough for the Brazilian to pick his spot and curl the ball into the far corner past substitute goalkeeper Alex Manninger.
In the night's other match Lazio beat Udinese 3-1 in the capital but Antonio Di Natale did manage his 29th goal of the season for the visitors to increase his lead in the golden boot competition.