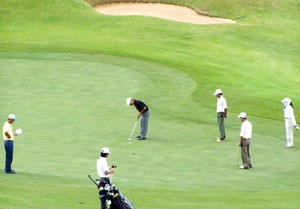 Golfers compete in the annual national tournament of Viet Nam in Da Lat City (Photo: Tuong Thuy)
German automaker Mercedes-Benz has announced a three-year multi-million-dollar sponsorship for golf in Southeast Asia to develop talent in the region.
The ASEAN Golf Tour, which teed off last year with five events, will this year include 10 tournaments each with a prize of US$50,000, while the season-ending Tour Championship offers a US$75,000 prize.
Under the three-year deal, Mercedes-Benz will support golf events in Indonesia, Malaysia, the Philippines, Singapore, Thailand and Viet Nam.
This year, three events will be held in Thailand, two each in Indonesia and the Philippines, and one each in Malaysia, Singapore and Viet Nam. There are also plans to stage future tournaments in Brunei, Cambodia, Laos and Myanmar.
In Viet Nam currently there are 16 operational golf courses and the number is expected to increase to 30 by 2010. Golf might remain, at least for a while yet, a "lonely" sport in the country because only wealthy people can afford to play it. But what gives reason for hope is that the U.S. is fast becoming a major investor here, and where American entrepreneurs go, so does golf.