MADRID, Sept 16, 2010 (AFP) - Ajax boss and former Tottenham coach Martin Jol admitted it was men against boys as Jose Mourinho's Real Madrid handed his Dutch youngsters a 2-0 Champions League defeat.
Mourinho, who won the Champions League with Inter Milan at the Bernabeu in May, saw an own-goal from 21-year-old defender Vurnon Anita and a strike from Argentina international Gonzalo Higuain settle the Group G opener.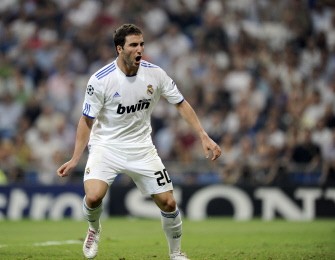 Gonzalo Higuain celebrates after scoring. AFP
But Jol believes that Real's greater experience proved crucial.
"It was a match between a team of young players against experienced, international players," said Jol.
"They know how to play the ball and didn't allow us to develop our game. We need to have the ball. They had 30 shots at goal, they clearly dominated the game."
The victory gave Real three points in a group which also includes fellow former champions AC Milan and another clean sheet.
Real have yet to concede a goal in their three games under Mourinho, who believes the Spanish giants are ready to win the Champions League for the first time since 2002 despite failing to get past the last 16 for the past six seasons.
Madrid should have won by more and Mourinho said it was just a matter of time before someone will be routed by his Real side.
"We played very well, pressured well and didn't let them play how they like to," said Mourinho. "One day some poor team is going to pay for all these chances that we are missing."
The Portuguese said his team was just as young as Ajax and dismissed Jol's belief that greater experience was the key.
"No, it was children against children," he said. "Real Madrid is a team of children, not counting the likes of Carvalho, Casillas and Xabi Alonso.
"They are all 21, 22, 23... we played well, we pressed and didn't allow Ajax to play. This team is a work in progress."