Malaysia and defending champions Singapore battled to a draw in the opening leg of the Asean Football Championship semifinal at the Shah Alam stadium in Malaysia last night.
Each team scored one goal in the Tuesday game, therefore the Lions have some advantages in the fight in the second leg on Saturday in Singapore. However, their captain Aide Iskandar will be absent because of two yellow cards in the battle with the yellow of Malaysia last night.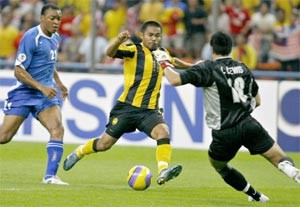 Singapore goalie Lewis (R) denies Yusof in a one-on-one situation
Malaysia played aggressively right in the beginning but no goals were scored in the first half. Notably, Nizaruddin Yusof had a good chance in the 10th minute but Singapore goalkeeper Lionel Lewis's brave challenge in a one-on-one situation denied the Malaysian striker.
The hosts were left frustrated at times but a goal came in the 57th minute. Hardi Jaafar was left unmarked as he made a cross towards Lewis from about 30 meters. The goalie came out to catch the ball but it went beyond his reach and landed at the back of his net.
The yellow of Malaysia kept attacking in search of a second goal but Singapore stood firm and in the 72nd they were rewarded. Free kick was made from the left side, Singapore striker Nor Alam Shah went deep into the penalty box and his header beat Malaysia goalkeeper Mohammad Syamsuri.
Meanwhile, there were frantic rushes on Monday and Tuesday to buy tickets for the Viet Nam-Thailand match at the My Dinh Stadium in Ha Noi on Wednesday – also the first leg of the other semifinal of the Asean Championship.
The presence of police officers in and around the stadium has ensured that the ticket-buying rushes did not escalate into a mob.
Millions of Vietnamese fans hope for a win for their team before the second leg four days later in Bangkok.
"At the national team level, we have not beaten Viet Nam in Ha Noi in several years and that is why if we come away with one point we will be happy," Thavatchai Sanjakul, the team manager for Thailand, said at the press conference on the eve of the Wednesday match.
He added, "We expect a draw and even if there is victory for one side it will be from a lucky goal."
As for Viet Nam, a draw or defeat would certainly be difficult for them to overcome in Bangkok. The last time the two teams met there was in the King's Cup final in late December in which the hosts won 3-1.