PARIS, May 25, 2010 (AFP) - The latest in a long line of elegant, attacking Brazilian full-backs, Maicon will approach the World Cup looking to embellish his reputation as the finest right-back in the modern game.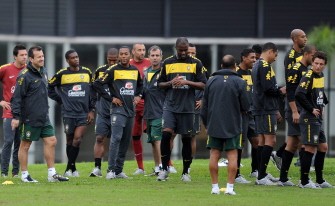 Brazil coach Dunga (L) smiles with his players during a training session at a training centre in the southern Brazilian city of Curitiba on May 24, 2010. AFP photo
The 28-year-old's superb performances for both Inter Milan and his national side mean that the retirement of former Brazil great Cafu after the last World Cup has not been too keenly felt by the five-time champions.
A long-time under-study to Cafu, who captained Brazil to glory at the 2002 World Cup, Maicon was finally given the chance to shine when Dunga took the Selecao reins in 2006.
Maicon earned his first piece of international silverware as a first-team regular when Brazil won the 2007 Copa America and also finished on the winning side in last summer's Confederations Cup in South Africa.
He is renowned for his tireless shuttling up and down the flank and has such physical capacities that both Inter and Brazil have adapted their tactical approach to give him free rein on the right side of the pitch.
A strong indicator of his quality can be found on the Brazil bench, where Dani Alves is forced to bide his time despite his own explosive performances for Barcelona over the last two seasons.
Maicon and his twin brother were born in July 1981 and he was named Maicon Douglas Sisenado in honour of his mother's favourite actor, Michael Douglas.
"She found him really sexy," admitted the player recently.
His father was an ex-footballer and when Maicon and his brother were born, he took their umbilical cords and buried them beneath the pitch of his former club, Novo Hamburgo, in the southernmost Brazilian state of Rio Grande do Sul.
Maicon began his football career with Criciuma before joining Cruzeiro, with whom he made his professional bow in 2001.
After three years with Cruzeiro he made the move to Europe, as thousands of his countrymen have before and since, joining French side Monaco, who had recently finished runners-up in the Champions League.
Maicon made 39 appearances and scored six goals in his first season at the club as Monaco finished third.
They ended up in 10th place the season after, whereupon the Brazilian was signed by Italian giants Inter.
Inter had recently been awarded the 2005-06 Serie A title after Juventus were stripped of the championship and relegated to Serie B in the calciopoli match-fixing scandal.
The nerazzurri retained the title in 2007 and Maicon has won the Italian championship in every season since he arrived at the club, capping it all with this season's Champions League crown.
A charismatic and popular squad member, Maicon has stepped up his attacking contribution this term and scored a memorable goal in the key 2-0 win over Juventus in April.
With Inter seeking a breakthrough late in the game at the San Siro, he controlled a high ball on his thigh on the edge of the area, juggled it twice and then fired a superb volley into the bottom-left corner past Italy international Gianluigi Buffon.
Maicon has attracted interest from some of the giants of world football, including Real Madrid and Chelsea, but continually insists that he is only concerned by preserving his first-team status at Inter.
"I've never thought as myself as untouchable," he said in 2008.
"I feel really good but I know I need to keep working hard at my game to keep my place in a side as strong as Inter."


Brazilian coach Dunga (L) smiles with his players during a training session at a training centre in the southern Brazilian city of Curitiba on May 24, 2010.