ROSARIO, Argentina, July 19, 2011 (AFP) - Hours after Argentina's national side slid out to neighbours Uruguay at the Copa America, Lionel Messi headed back almost unnoticed to his home town of Rosario.
Despite his being the world footballer of the year, it was a low-key homecoming for the Barcelona man -- but that was for the better, particularly after another unspectacular showing in the national shirt.
In truth, locals hardly seemed to notice the whole event after the Argentine Football Association decided it should pass them by.
A handful of youngsters, sporting Brazil starlet Neymar's spectacularly spiky haircut, possibly had an inkling, but most locals seemed more interested in queuing up to see the final Harry Potter movie.
Retail outlet Jose's Bridal Wear did make a little concession to the event's existence, draping an Argentinian flag among silken wedding gowns.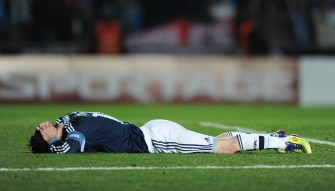 Lionel Messi reacts during the Copa America quarter-final football match against Uruguay on July 16, 2011. AFP
Organisers decided that the Copa should go on the road, with only the July 24 final to be played in the capital Buenos Aires.
Yet while the albiceleste appeared at La Plata near the capital, as well as the provincial towns of Santa Fe and Cordoba, they shunned the one place where the neutral might expect support to be at its most raucous -- Messi's old haunt, Rosario.
It was in this city four hours north-west of Buenos Aires that Argentina laid the foundations for their first World Cup triumph in 1978, playing the second phase there.
But with local politicians at La Plata having had a new stadium constructed less than a decade ago, that venue made the cut and Rosario missed out.
Strangely, to the outside observer, local fans seemed unconcerned about not seeing Messi.
The 24-year-old left for Barcelona as a young teen and a straw poll of residents gave credence to the view that he may be the world's best player, but he is not really one of theirs.
"Well he never played for Rosario, did he? I mean we see all the goals he scored for Barcelona, but when does he score for Argentina? Sergio Aguero and Angel Di Maria did most of the scoring," complained Aline, a young woman selling leather goods and metal straws through which locals sip mate tea.
But is Messi not a local boy made good?
"Well I see they just put up a statue to Riquelme at Boca Juniors. But he's identified with Boca," replied Aline.
"Messi we don't really identify with Rosario -- he never played for them. They couldn't afford the treatment," she stressed, referring to the treatment Messi required for stunted growth as a boy.
Barca footed the bill and the rest is history.
"This is more a city for art and culture. I mean we have statues -- to (musicians) Fitor Paez and Juan Carlos Baglieto, writer Fontana Rosa.
"But one for Messi? I don't see that -- or even one for (Diego) Maradona."
One who does make it into Rosario's statue hall of fame is another former resident who left as a youngster and whose face is at least as recognisable as Messi's -- revolutionary Che Guevara, who left as a child in a bid to cure his asthma.
Copa America organising committee chairman Luis Meiszner suggests Messi "is a sportsman who has triumphed abroad and is not (properly) recognised in his own country," while local journalist Lalo Falcioni told AFP: "Messi is not identified with the city."
Argentina could have done with much more of his star quality as they look back on another failed attempt to end an 18-year trophy drought.
But if you want magic in Rosario, forget Messi.
Better to head to the Monumental Cinema -- ironic, when the Copa final will be played at Buenos Aires' Monumental Stadium -- for some of the Harry Potter variety.