* A late goal by Helio allowed the traveling Southern Steel - Saigon Port team to hang onto eighth place in the championship table and kept Dong Thap in the relegation zone.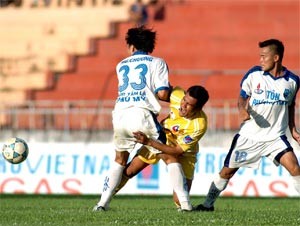 Southern Steel-Saigon Port's Nguyen Chuong (33, white) holds off Dong Thap's national striker Phan Thanh Binh (yellow)
The visitors took the lead in the 17th minute when Elenildo De Jesus headed Cao Tung A Vy's searching cross from the right to Ngu Chi Thang, who beat goalkeeper Tan Truong with a clinical volley.
Ho Chi Minh City's only team in the premier league made it two-nil three minutes later when national midfielder Nguyen Minh Chuyen delivered a perfect pass into the path of onrushing De Jesus, who wrong-footed keeper Tan Truong before firing into an empty net.
National striker Phan Thanh Binh held out the host side's hope of a comeback in the 39th minute when he hooked a low cross from skipper Viet Cuong with his right foot and found home.
Helio wrapped up the three points for Southern Steel - Sai Gon Port in style with a skillfully executed solo performance, moving past three Dong Thap defenders before beating goalie Tan Truong with an angled shot.
* Visitors Khatoco Khanh Hoa extended the losing streak of bottom huggers Huda Hue to five in a row with a single goal by Jonathan Quartey.
The threat of relegation forced the host side to try an aggressive formation but their quiet duo of Andrew Opara and Oyebola Abiodun Folorunso failed to pierce Khatoco Khanh Hoa's stubborn resistance.
Ngoc Dieu came closest for the visitors in an otherwise tame first half with a close-range shot in the 21st minute that forced a fingertip save by goalkeeper Munze Ulrich.
But Huda Hue came undone in the 65th minute when referee Vo Minh Tri awarded the visitors a penalty after Minh Luan had challenged Ngoc Thach inside the six-yard box; Quartey gave keeper Ulrich no chance from the spot.
*An equalizer by Tan Thinh earned Ha Noi ACB a valuable point against the traveling Song Lam Nghe An at Hang Day Stadium.
The visitors took the lead in the 23rd minute when Valdiney fired the ball home from inside the penalty area.
But the host side did not wilt and got back into the game five minutes later when a lively Pham Thanh Luong bamboozled the Yellows' defense from the left to feed an unmarked Tan Thinh, who made no mistake to net from close range.
The results left Song Lam Nghe An looking safe at ninth in the table and Ha Noi ACB dropping closer to the relegation zone.
 
The V-League Petro Viet Nam Gas 2007 Table
Team
P
W
D
L
Pts
1
Becamex Binh Duong
23
14
6
3
48
2
Dong Tam Long An
23
10
7
6
37
3
Da Nang
23
9
9
5
36
4
Hoang Anh Gia Lai
23
10
5
8
35
5
Nam Dinh
23
9
7
7
34
6
Pisico Binh Dinh
23
9
6
8
33
7
Halida Thanh Hoa
23
8
8
7
32
8
Southern Steel-Saigon Port
23
8
9
6
31
9
Song Lam Nghe An
23
6
10
7
28
10
Khatoco Khanh Hoa
23
8
4
11
28
11
Ha Noi ACB
23
6
8
9
28
12
Hoa Phat Ha Noi
23
6
8
9
26
13
Dong Thap
23
3
10
10
19
14
Huda Hue
23
4
6
13
18