Japan will host Viet Nam in the third round match of the 2007 Beijing Olympics  on August 22.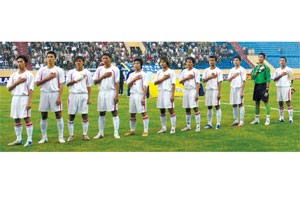 Viet Nam's Olympic team
Injuries forced Viet Nam's Austrian coach Alfred Riedl to drop left winger Van Bien and midfielder Chau Phong Hoa from the 19-man team.
The national team is scheduled to leave Viet Nam after the V-League's 21st round ends on Sunday, arriving in Tokyo the next day.
Coach Riedl's team will stay in the Grand Prince New Hotel with two warm-up sessions at Tokyo's National Stadium before taking the field on the evening of August 22.
Viet Nam's 19-man squad for the 2007 Beijing Olympic's third round:
Goalkeepers: Tran Duc Cuong, Nguyen Thanh Binh, To Vinh Loi
Defenders: Nguyen Thanh Long Giang, Doan Viet Cuong, Mai Xuan Hop, Dong Huy Thai, Vo Nhat Tan
Midfielders: Nguyen Ngoc Dieu, Phung Cong Minh, Nguyen Minh Chuyen, Mai Tien Thanh, Nguyen Vu Phong, Nguyen Quy Suu, Vo Duy Nam
Strikers: Nguyen Anh Duc, Le Cong Vinh, Huynh Phuc Hiep, Phan Thanh Binh