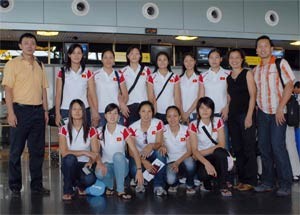 The Vietnamese women's volleyball team
* The Vietnamese women's team will compete in the 2007 Asian Volleyball Championships in Thailand from September 5 to 13. They will share Group B with China and Sri Lanka.
Their Chinese coach, Vuong Quan, says he will field his strongest line-up to prepare for the all-important South East Asian Games.
* Viet Nam will take part in the 2007 Southeast Asian Women's Football Championships in Myanmar.
The Vietnamese players are at the peak of physical fitness after training in China and are confident of doing well in Myanmar, newly signed Chinese coach Tran Van Phat said.
* Viet Nam lost to Malaysia 2-3 yesterday in a thrilling semi-final of the 2007 Asian Students Football Championships in Thailand.
Trailing 0-3 after the break, the plucky Vietnamese youngsters pulled two goals back but failed to break the Malaysians' steady defense in the remaining time.
The result left Viet Nam taking on Thailand, who lost to Korea in a penalty shootout, for third place.