Vinh Nghi's header with six minutes to go gave Southern Steel-Sai Gon Port a thrilling 4 – 3 victory over the visiting Nam Dinh at Seventh Military Zone Stadium.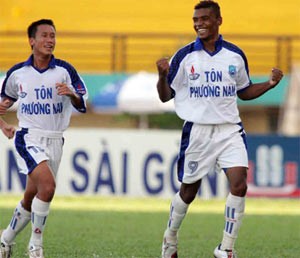 Southern Steel-Sai Gon Port's striker Elenildo De Jesus (right) celebrates his goal against Nam Dinh
The host team's boss looked for a win at home as he played only three defenders in the back, but his loose defense handed the visitors the lead in five minutes.
Southern Steel-Sai Gon Port's defender Ngoc Hung anticipated badly Minh Tu's cross to Eric Harrison Muranda, allowing the striker to beat goalkeeper Hoang Cong Vuong in a one-on-one challenge.
The visitors from Nam Dinh lost their early advantage, though, with poor defense in the 28th minute.
Helio danced his way past two Nam Dinh defenders before firing the ball home at keeper Nguyen Quang Huy's right post to restore parity.
Southern Steel-Sai Gon Port took the lead just two minutes later when Elenildo De Jesus trapped the ball with his chest and tapped it backwards over his head before making a neat turn and blasting an unstoppable volley into the back of the net.
But the southerners' joy was dampened at the half-hour mark when Ajoku Obinna Darlington skipped away from his marks to head home a Trong Loc free kick from inside the box.
The visitors regained their lead in the 65th minute with Muranda's second goal, this time off a penalty after Xuan Phu was tackled by goalkeeper Cong Vuong.
But De Jesus put Southern Steel-Sai Gon Port level eight minutes later with another powerful volley from inside the penalty area.
With six minutes to go, Nam Dinh goalkeeper Quang Huy handed the host side the winning goal when he failed to hold onto a right wing cross, and Vinh Nghi simply headed the ball into an empty net.
Southern Steel - Sai Gon Port: Hoang Cong Vuong, Vinh Nghi, Minh Chuyen (Minh Trung 63'), A Vy (Minh Thong 90'), Elenildo De Jesus, Van Hung, Helio, Ngu Chi Thang, Nguyen Quang, Ngoc Hung, Dos Santos (Anderson 52')
Nam Dinh: Nguyen Quang Huy, Thanh Tung, Emmanuel, Ngoc Lung, Trong Loc, Manh Tu (Danh Ngoc 57'), Van Nhien, Quoc Tuan, Xuan Phu (The Hieu 88'), Eric Harrison Muranda, Ajoku Obinna Darlinton
The V-League Petro Viet Nam Gas 2007 Table:
 
Team
P
W
D
L
Pts
1
BECAMEX BINH DUONG
 19
 13
5
1
44
2
HOANG ANH GIA LAI
19
 9
4
6
31
3
DA NANG
 19
 8
5
4
31
4
HALIDA THANH HOA
 19
 7
7
 5 
28
5
DONG TAM LONG AN
 19
 7
6
6
27
6
PISICO BINH DINH
 19
 7
5
7
26
7
NAM DINH
 19
 6
7
6
25
8
SOUTHERN STEEL SAIGON PORT
 19
 6
6
7
24
9
SONG LAM NGHE AN
 19
 5
8
6
23
10
HOA PHAT HA NOI
 19
5
6
8
21
11
KHATOCO KHANH HOA
 19
 6
3
10
21
12
HA NOI ACB
 19
 5
5
9
20
13
DONG THAP
 19
 3
9
7
18
14
HUDA HUE
 19
 4
6
9
18