Song Lam Nghe An produced a dazzling display to demolish the visiting Hoang Anh Gia Lai team and notch up a deserved 3-0 victory at Vinh Stadium yesterday.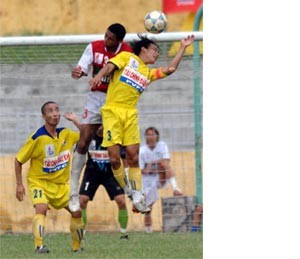 Hoang Anh Gia Lai's Eduardo Barboza Quintanllha (red and white) fights for the ball with Song Lam Nghe An's Nguyen Huy Hoang
Valdiney opened the scoring with an unstoppable shot from outside the penalty area then Trong Hoang made it two by getting around goalkeeper Quoc Viet and tapping the ball into an empty net.
Quoc Tuan sealed Song Lam Nghe An's victory with a deflected shot from close range.
The Yellows, as the boys from Nghe An are known, started the game at a frantic speed, hoping to end the losing streak that was pushing them toward the relegation zone.
But the first scoring chance went to the visitors when Dinh Viet's swerving shot from 25 meters out was punched away by goalkeeper Duong Hong Son. 
Song Lam Nghe An's first threat was down to Rodrigo Aparecido Toledo, who soared above his opponents in Hoang Anh Gia Lai's penalty area to power in a header that hit the cross bar.
Hoang Anh Gia Lai, who are called the Vietnamese Arsenal because of their similar uniform and their links to the famous London club, looked livelier after the break but Huy Hoang and Xuan Thang were in dominant form in back play, shutting off the highlanders at every opportunity.
The visitors paid for failing to capitalize on their pressure when Song Lam Nghe An broke through in the 65th minute and Valdiney released a rocket that flew true from the edge of the penalty area.
The Yellows rubbed salt into their opponents' wounds in the 78th minute when Olivera sent a precise cross to Trong Hoang, who dummied a move that fooled an advanced goalie Quoc Viet before firing into an empty goal.
Quoc Tuan put Song Lam Nghe An's victory beyond doubt by delicately lobbing the ball over a helpless keeper Quoc Viet in the closing minutes of the match.
Song Lam Nghe An: Duong Hong Son, Nguyen Huy Hoang, Xuan Thang, Nhu Thuat, Le Cong Vinh, Valdiney, Van Vinh, Van Sy Son, Cong Minh, Rodrigo Aparecido Toledo, Ebenezer Abbey
Hoang Anh Gia Lai: Quoc Viet, Gia Hoang, Trinh Duy Quang, Thonglao, A Huynh, Viet Anh, Dusit, Minh Nghia, Dinh Viet, Tang Tuan, Eduardo Barboza Quintanllha
The V-League Petro Viet Nam Gas 2007 Table

Team
P
W
D
L
Pts
1
Becamex Binh Duong
23
14
6
3
48
2
Dong Tam Long An
23
10
7
6
37
3
Da Nang
23
9
9
5
36
4
Hoang Anh Gia Lai
23
10
5
8
35
5
Nam Dinh
23
9
7
7
34
6
Pisico Binh Dinh
23
9
6
8
33
7
Halida Thanh Hoa
23
8
8
7
32
8
Southern Steel-Saigon Port
23
8
9
6
31
9
Song Lam Nghe An
23
6
10
7
28
10
Khatoco Khanh Hoa
23
8
4
11
28
11
Ha Noi ACB
23
6
8
9
28
12
Hoa Phat Ha Noi
23
6
8
9
26
13
Dong Thap
23
3
10
10
19
14
Huda Hue
23
4
6
13
18