A goal at the stroke of halftime from Naoaki Aoyama gave Japan a narrow victory over a plucky Viet Nam in the third round match of the 2008 Beijing Olympics at Tokyo's National Stadium yesterday.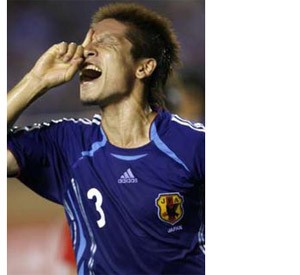 Japan's defender Naoaki Aoyama celebrates after scoring a goal against Viet Nam
The host team proved they were the much stronger side just two minutes after kickoff, with Hirayama Sota firing a fierce shot from outside the penalty area wide over the crossbar after moving past Viet Nam's center defender Mai Xuan Hop.
The Japanese striker tried his luck from long range again in the 15th minute, but vigilant goalkeeper Duc Cuong caught it easily.
The host team should have taken the lead in the 29th minute when Hirayama, who looked the liveliest in the front line, unleashed an angled shot that beat a diving keeper Duc Cuong but was cleared off the line by defender Viet Cuong.
Takuya Honda then saw a powerful header from a left corner kick shave the crossbar as the Japanese side kept the pressure on the visitors from Viet Nam.
But Viet Nam's resolute resistance was broken in the 45th minute as defender Naoaki Aoyama rose highest in the penalty area to power in an unstoppable header.
A hardworking Vietnamese defense continued to resist an onslaught from their opponents after the interval.
Four minutes into the second half, Xuan Hop's clearance turned into a dangerous header toward his own goal, but fortunately goalie Duc Cuong was there to punch it away to safety.
The Japanese team then controlled the game for long spells with first Hirayama taking control of a header only to send it sailing an inch wide and then Lee Tadanari sending a header that got past a stationary Duc Cuong but also flying wide.
Hirayama was denied again a moment later when his effort at the left of Viet Nam's area was blocked by the leg of an advancing Duc Cuong.
The visitors' main threat was produced in the 88th minute as Vu Phong's free kick from the 35-meter mark forced the best out of goalkeeper Kaito Yamamoto as he tipped it away for a corner kick.