* Agribank extends contract with VFF

The Viet Nam Football Federation and Agribank on 18 September signed an agreement to extend the state bank's sponsorship of the Agribank Cup until 2009.

The extension means the international football tournament will not die a premature death like what happened to the Honda Cup and its successor the BV Cup.

The VFF is still to decide the fixtures for this year's Agribank Cup. National coach Alfred Riedl has suggested holding the event a week earlier than planned (Nov 6-10) to give Viet Nam's national and Olympic teams more time to rest before their World Cup qualifying games and Olympic selection matches.

The under-23 Vietnamese team in the 2007 Agribank Cup will probably vie with Thailand U-23, Olympic Uzbekistan and Olympic Finland for the US$40,000 winner's prize.

* First handshakes between VFF and the Dutch

Representatives of the Royal Netherlands Football Association and the Dutch organization Support for Sports (S4S) arrived in Viet Nam on September 19 and will stay until September 28.
 
The Dutch guests will run a four-day clinic for young Vietnamese coaches, assess the progress being made and decide what else they can do in the future to nurture Vietnamese football.

Their visit will also include a workshop on policy, management, competitiveness, training instructors and coaches and the development of young players. The idea is that the cooperation will become a long-term arrangement.

* Millions and millions for just one point at Pleiku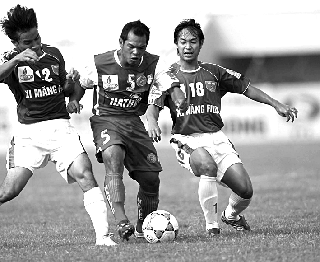 Hoa Phat Ha Noi need just one point, but Hoang Anh Gia Lai want honor
Hoa Phat Ha Noi will be able to avoid the relegation play-off if they can get just one point against Hoang Anh Gia Lai at Pleiku Stadium this weekend. The Hanoi club has promised its players a bonus of VND200 million (US$125,000) if they draw their final V-League match of the season.

* Nam Dinh strive for third place in V-League

The Dam Phu My Nam Dinh footballers have been training hard at home for their away match against Da Nang this weekend. Their goal is to get three points at Chi Lang Stadium and end the season with a bronze medal.

* Women's football team loses assistant coach

Ngo Le Bang has told the VFF that he will quit as assistant coach of the national women's football team now that the Southeast Asian Championship has concluded. Viet Nam finished in a disappointing third place.