Two goals from Viet Thang gave defending champions Dong Tam Long An a well deserved 2 – 1 victory over the traveling Ha Noi ACB at Long An Stadium.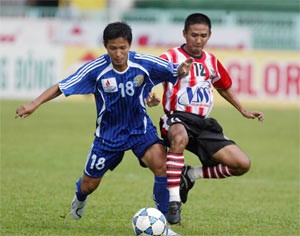 Dong Tam Long An's Luu Minh Tri (right) fights for the ball with Ha Noi ACB's Tan Thinh
The hosts took the lead in the additional time of the first half when Viet Thang headed home a fine pass from Minh Tri. Viet Thang later benefited from defender Nguyen Manh Dung's sloppy mistake to grab his second goal before Enock Bentil reduced the deficit with a powerful shot.
Nguyen Minh Phuong and Phan Van Tai Em, national midfielders both, and Katsigazi Ronald Martin of Dong Tam Long An, looked lively in midfield, creating many scoring chances for Antonio Carlos and Viet Thang up front.
Martin came closest to breaking the deadlock five minutes after kickoff, when his bullet header flew just an inch wide of Viet Cuong's right-hand post.
The Ugandan midfielder was industrious at the heart of Dong Tam Long An's midfield, and looked the most impressive player on the pitch in the opening quarter.
The visitors from Ha Noi played defensively, pinning their hopes on Duc Tuan and Van Minh's counterattacks, cooperating at the right wing to deliver a long cross for Bentil in the front.
The tactic almost handed them the lead in the 36th minute as Pham Thanh Luong broke behind Dong Tam Long An's defense from the right to whip the ball to Bentil, who pulled a nice move to fool Van Giau before firing a shot that hit the post.
Two minutes later, Ha Noi ACB's striker Mbabazi lost another glorious chance when his effort from close range beat Brazilian goalkeeper Santos but struck the post.
But Viet Thang gave the home team the lead on the stroke of the half when he rose highest to head home Luu Minh Tri's right wing cross.
After the interval, Ha Noi ACB's manager Hoang Van Phuc brought Nguyen Manh Dung out, but the change turned into a mistake as the veteran center defender lost the ball to Viet Thang, who netted his second goal with a clinical finish.
The visitors fought their way back into the game with a consolation goal in the 73rd minute as Bentil won the ball from Phan Van Giau to beat giant keeper Santos from inside the penalty area.
Dong Tam Long An: Santos, Phan Van Giau, Van Hung, Nguyen Minh Phuong, Viet Thang, Antonio Carlos, Phan Van Tai Em, Luu Minh Tri, Thanh Truc, Lam Huy, Katsigazi Ronald Martin
Ha Noi ACB: Viet Cuong , Manh Hung, Thanh Long, Mbabazi, Pham Thanh Luong, Danh Minh, Anh Dung, Van Minh, Tan Thinh, Duc Tuan, Enock Bentil

The V-League Petro Viet Nam Gas 2007 Table: 


Team
P
W
D
L
Pts
1
BECAMEX BINH DUONG
 19
 13
5
1
44
2
HOANG ANH GIA LAI
19
 9
4
6
31
3
DA NANG
 19
 8
5
4
31
4
HALIDA THANH HOA
 19
 7
7
 5 
28
5
DONG TAM LONG AN
 19
 7
6
6
27
6
PISICO BINH DINH
 19
 7
5
7
26
7
NAM DINH
 19
 6
7
6
25
8
SOUTHERN STEEL SAIGON PORT
 19
 6
6
7
24
9
SONG LAM NGHE AN
 19
 5
8
6
23
10
HOA PHAT HA NOI
 19
5
6
8
21
11
KHATOCO KHANH HOA
 19
 6
3
10
21
12
HA NOI ACB
 19
 5
5
9
20
13
DONG THAP
 19
 3
9
7
18
14
HUDA HUE
 19
 4
6
9
18