LONDON, Aug 2, 2010 (AFP) - Premier League club Liverpool could be bought by a Chinese business tycoon within days, according to reports here on Monday.
Kenny Huang, head of Hong-Kong based investment company QSL Sports Ltd, is reported to be in talks with the Royal Bank of Scotland with the aim of taking full control of the club which has been up for sale since April.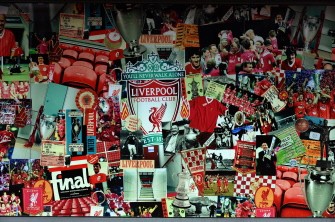 A collage of photographs on display at the Liverpool football club shop at Liverpool FC's Anfield Stadium in Liverpool, England, on August 2, 2010. AFP
"A deal has to be done before the transfer window closes (on 31 August)," a source close to Huang told BBC Sport.
"Huang has made a firm proposal. The club's board has to sanction the sale and it could be sewn up in days."
Huang is offering to clear Liverpool's debt to RBS and hand new manager Roy Hodgson funds to do business in the transfer window. The tycoon also plans to build the club a new stadium.
"Kenny is the only serious bidder interested in the club and he's optimistic," the source told BBC Sport.
Huang reportedly turned down the chance to buy Liverpool in 2008 because he felt a valuation of 650 million pounds was too high, and it is believed he now values the club at around 350 million pounds (423 million euros).
The current owners, Americans Tom Hicks and George Gillett, bought the club in March 2007 in a deal worth 218.9 million pounds.
The pair refinanced with a 350-million-pound package from two banks the following year but it left the 18-time English champions with a debt in the region of 105 million pounds.
The pair have had a difficult tenure at Anfield, with supporters regularly protesting at the level of debt taken on by the club after the buy-out, and new stadium plans.
Gillett informed RBS last week that he was in advanced negotiations with Syrian businessman Yahya Kirdi. However, this has been viewed as a stalling tactic.
If RBS decide to turn down the proposal - and no new viable bidders are forthcoming - the bank has the option of calling in their loan in October, making it important for the Reds to resolve the ownership issue as soon as possible.
Huang, who is backed by one of the wealthiest investment funds in the Far East, was first linked with a buyout at Liverpool two years ago.
He is well known in China for his interests in baseball and basketball, and last year bought a 15 percent stake in NBA side Cleveland Cavaliers.
Huang is believed to have already spoken to senior figures at Anfield to express his seriousness about a buy-out and in the hope that his message filters down to help persuade top stars like Fernando Torres, who returned to training on Monday after his post-World Cup break, the club does have a better future.
If Huang does complete a takeover before the transfer window closes at the end of August, sources close to the tycoon have made it clear he is willing to putting significant funds into rebuilding manager Roy Hodgson's squad.
In addition, he will also turn his attention to finally getting Liverpool's new 60,000-seater stadium built in Stanley Park after three years of inertia.