ROME (AFP) - Italy coach Marcello Lippi dropped a clear hint as to who he will be banking on in South Africa as he praised the qualities of Juventus midfielder Claudio Marchisio.
And, speaking from the world champions' altitude training base in Sestriere on Sunday, he also suggested what his preferred formation is likely to be at the World Cup.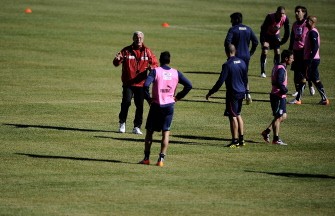 Italy's soccer team coach Marcello Lippi (L) talks to his players during training session in Sestriere on May 25, 2010. AFP photo
"Everyone plays with one true lone striker and nine (outfield) team-mates to run around and defend, no matter how many forwards are on the pitch," he said before suggesting he might play 24-year-old Marchisio behind his frontman.
"I like him a lot in that position because of all our midfielders he's the one with best movement off the ball.
"He gets in gaps, follows the action and appears in empty spaces. And on top of that he helps to cover the midfield."
Another player who might be given an unusual position is centre-back Giorgio Chiellini.
"I'll also try Chiellini out at left-back, I've asked the lads to make themselves available for the cause."
However, the World Cup winning coach, who quit Italy after victory in Germany four years ago only to come back into the hot seat two years later, refused to give away who his final 23-man squad will be.
"You'll just have to have a little patience and wait until Tuesday to know everything."