PARIS, May 27, 2010 (AFP) - Dressed only in tight-fitting football shirts or skimpy bikinis, and pouting enthusiastically for lucrative sportswear and magazine photoshoots, the World Cup WAGS are on the march.
Staples of the tabloid press and countless Internet sites, footballers wives and girlfriends have created an entire soccer sub-culture and a lucrative media sideline.
With the 2010 World Cup in South Africa just around the corner, the likes of Sarah Brandner, girlfriend of German midfielder Bastian Schweinsteiger, and Abbi Clancy, partner of England striker Peter Crouch, have led the rush to the photo shoots.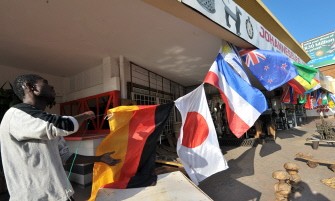 This photo taken on May 16, 2010 shows a West African curios vendor putting up flags in front of his shop in Johannesburg, South Africa (AFP photo)
It's a long way from 1966, the year of England's only World Cup triumph when wives and girlfriends were not even invited to the team's celebration dinner.
Back then, a footballer's partner was expected to be demure and discreet, living their lives in suburban anonymity rather than double-page spreads or in reality TV shows.
Tina Moore, the wife of England Cup-winning skipper Bobby, recalled how the two had met.
"I met Bobby when I was 16 and knew nothing about football. The first date he ever asked me on I stood him up," she said.
"It was only when I bumped into him while shopping with my mother on our local High Street that things went any further. I told her that he'd asked me out and she decided he looked nice and invited him round for tea."
The Moores preferred quiet nights in rather than falling out of dance clubs into a battery of waiting cameras.
"At first, being married to a footballer didn't feel that special - Bobby would sit at home with me and help me bleach my roots or do normal things like decorating the house," said Tina Moore.
"After the final, we went back to our semi-detached house in Essex and held a party for some of our close friends. It wasn't anything fancy, just a few drinks and a bit of music for a couple of hours.
"After everyone left, it all felt a bit flat. Bobby poured himself a lager while I cleared away the glasses."
When the wives and girlfriends of the England team accompanied their men to Germany in 2006, they held their own in column inches for their wild shopping sprees in the plush boutiques of Baden-Baden.
Mercifully, England coach Fabio Capello is set to be spared such distractions this time round with the likes of Coleen Rooney and Alex Curran (the wide of Steven Gerrard) poised to stay at home.
Some have speculated that the long distance, combined with family commitments prompted the decision.
The cynics point to the cold and rain of a biting South African winter posing serious dangers to lip gloss, hair extension, fake tan and acrylic nail.
"Coleen and most of the other girls have decided it would be better if they stay at home," a family 'friend' told The Mail on Sunday.
"Coleen has made tentative plans to go if England get through to the final, otherwise she will be staying put. She has arranged to throw some big match parties for friends and family and she will be inviting the other WAGs to come and hopefully celebrate."
But will the WAGS' absence backfire?
Four years ago, former Ecuador international Alex Aguinaga insisted that the South Americans' no-sex policy would give them the edge when they faced England in a crucial game.
"The English way is not a good way," he said. "Having wives and girlfriends around is a distraction which we do not have. The English wives and girlfriends are causing a circus.
"We have left our wives and girlfriends at home and are more focused. There has been no contact with them since two weeks before the World Cup started. This is our way and this is how we will win."
England won 1-0 and made the quarter-finals. The scorer? David Beckham whose wife Victoria was the undisputed WAGS' fairy godmother.