BIRMINGHAM, United Kingdom, Sept 13, 2010 (AFP) - Roy Hodgson made an impassioned defence of striker Fernando Torres after the Spanish World Cup star came under fire in Sunday's drab 0-0 draw at Birmingham.
Hodgson was furious at criticism levelled by former Liverpool midfielder Jamie Redknapp, now working as a TV pundit, who said that the striker's opening 45 minutes was so poor it suggested he didn't want to be at the club.
Redknapp accused Torres of a "lack of effort" and said "for 45 minutes he has been diabolical".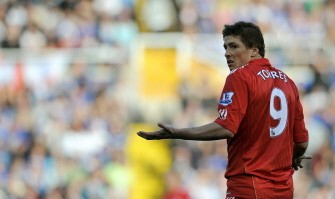 Fernando Torres gestures to the linesman against Birmingham City on September 12, 2010. The game ended 0-0. AFP
But Hodgson leapt to the defence of his World Cup winner, despite the fact the striker cut such a forlorn figure for virtually the entire game, giving added credence to rumours that he wants a return to Spanish football.
"I would not share other people's opinion of Torres' performance. He has worked hard for the team. And he was a constant thorn in the side of their defenders," said Hodgson.
"You have to give their back-four some credit. He lacks match training. He missed games at the end of last season and he missed games in the World Cup. I am not at all concerned about Fernando Torres.
"He will get better and better as the season goes on. He was not a peripheral figure. He came into central areas and he created havoc."
Hodgson has also been forced to explain suggestions that he has admitted Liverpool are unable to challenge for the league title this season as it is not a realistic target.
"I do not set targets, so I did not say that. I have never said that we cannot win the league and that is not a target for us. I don't set targets. So I don't know where I am supposed to have said what I have been quoted as saying," he said.
"If you ask me the question can this team win the league I would say I don't know. We will work hard each game and see where that takes us in May. I find it faintly amusing that after four games people are discussing who is going to win the league. We play 38 games.
"I give all other people's opinions credence, but I don't set targets. I am not prepared to make a statement that this team can or cannot win the league.
Birmingham City manager Alex McLeish saw his side extend their unbeaten home league run to 17 games, but it was the performance of Scotland international James McFadden, just days after his work ethic was questioned by Scotland manager Craig Levein, that pleased him as much as anything.
"James McFadden has answered some of his critics with that performance. He put a shift in for the team and helped out in midfield. He got some criticism in the Scottish press for his performances up there. He has been the talisman for the national team for a long time.
"It did not go well for him in the last couple of games, but to suggest he is lazy that is nonsense. He is one of the best trainers at the club."
McLeish was unable to give Alexander Hleb, on loan for the season from Barcelona his debut because of an injury sustained on international duty with Belarus.
But the Birmingham manager anticipates he will be available next weekend for the trip to face neighbours West Bromwich Albion.
"Alexander Hleb did some running on Saturday and it was still too tender. He was still sore on the morning of the game. Hopefully he will be able to train this week and be available for the game against WBA," he added.