LOS ANGELES (AFP) – Lance Armstrong Thursday dismissed accusations of doping leveled against him by disgraced cyclist Floyd Landis, who implicated the seven-time Tour de France winner and others in confessing his own cheating.
"It's our word against his word," Armstrong told a clutch of reporters in Visalia, California, shortly before the start of the fifth stage of the Tour of California. "I like our word. We like our credibility."
The Wall Street Journal reported that Landis acknowledged his own drug use and accused colleagues in emails he sent to cycling officials and sponsors.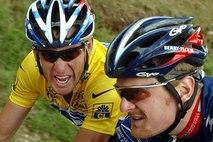 (AFP file) Lance Armstrong (L) with fellow countryman Floyd Landis
He said Armstrong schooled him in doping techniques, and colluded with an official of the International Cycling Union (UCI) to have a positive test covered up.
Sports news site ESPN.com said Landis confirmed to them that he had sent the emails admitting the use of performance-enhancing drugs.
"I want to clear my conscience," he said. "I don't want to be part of the problem anymore."
Landis, who was stripped of his own 2006 Tour de France title after testing positive for elevated levels of testosterone, claimed he and other US cyclists conducted blood transfusions, and used steroids and the synthetic blood booster erythropoietin (EPO).
In emails addressed to officials from USA Cycling, the UCI and elsewhere, Landis alleged that longtime Armstrong team manager Johan Bruyneel introduced Landis to practices including steroid patch use and blood doping.
Bruyneel led the US Postal team which later became Discovery Channel, to victory in eight of nine Tour de France races from 1999 - seven straight from 1999-2005 with Armstrong.
Landis joined US Postal in 2002, and teamed with Armstrong in three Tour de France campaigns before winning in 2006 riding for Phonak.
With Bruyneel - now manager of Armstrong's RadioShack team - at his side, Armstrong challenged Landis' credibility.
"Floyd lost his credibility a long time ago," said Armstrong, who crashed early in stage five abandoned the Tour of California. "We have nothing to hide. We have nothing to run from."
The UCI reacted angrily to the charge that Armstrong and Bruyneel arranged with former UCI President Hein Verbruggen to have a positive doping test by Armstrong during the 2002 Tour of Switzerland suppressed.
"Deeply shocked by the gravity of this statement, which considerably impinges on the honour of all persons who have dedicated themselves to the fight against doping, the UCI wishes to clearly state that it has never changed or concealed a positive test result," the governing body said in a statement.
The UCI also noted that Armstrong, who won the Tour of Switzerland in 2001, didn't even compete in the race in 2002.
"We're a little confused, maybe just as confused as you guys," Armstrong said of the discrepancy.
Speaking to ESPN, Landis admitted "misjudgments", but said he felt no guilt at having taken performance-enhancing drugs.
"I don't feel guilty at all about having doped," Landis said. "I did what I did because that's what we (cyclists) did and it was a choice I had to make after 10 years or 12 years of hard work to get there."
Among other cyclists implicated by Landis, George Hincapie said he was "really disappointed" by the accusations.
Jim Ochowicz, a former USA Cycling official also fingered by Landis, now heads Hincapie's current BMC Racing team.
"These allegations are not true, absolutely unfounded and unproven," Ochowicz said.
USA Cyling and the US Anti-Doping Agency both stuck to policies of not commenting on doping allegations or cases in progress.
UCI president Pat McQuaid, speaking to the BBC, questioned Landis' motives.
"What's his agenda? The guy is seeking revenge. It's sad, it's sad for cycling. It's obvious he does hold a grudge.
"He already made those accusations in the past. I have to question the guy's credibility. There is no proof of what he says. We are speaking about a guy who has been condemned for doping before a court."
Landis was banned from racing for two years after failing his drug test, making his return in January 2009.
He lost an appeal before the Court of Arbitration for Sport (CAS) which threw out his case in June 2008 and ordered him to pay 100,000 dollars in judicial costs to the American anti-doping agency.
Landis' attempts to clear his name are believed to have cost him some two million dollars (1.6 million euros), some of which he raised through contributions from his fans.
"I'd remind everybody that this is a man that's been under oath several times and had a very different version," said Armstrong, who has strenuously denied past doping allegations.
"This is a man that wrote a book for profit that had a completely different version. This is somebody that took, some would say, close to one million dollars from innocent people for his defense under a different premise.
"Now when it's all run out the story changes."