BERLIN, May 27, 2010 (AFP) - Bayern Munich defender Philipp Lahm has been named Germany captain for the World Cup to replace injured Chelsea star Michael Ballack, newspapers reported on Thursday.
Ballack withdrew last week from the June 11-July 11 World Cup finals in South Africa with an ankle injury sustained in a heavy tackle by Portsmouth's Germany-born Ghanaian Kevin-Prince Boateng in England's FA Cup final.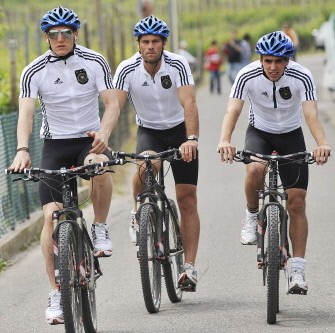 (L-R) German midfielder Bastian Schweinsteiger, fitness coach Benjamin Kugel and defender Philipp Lahm come back from a ride on a mountain bike in Appiano near the north Italian city of Bolzano on May 27, 2010. AFP photo
The reports also said that coach Joachim Loew will name Schalke's Manuel Neuer as Germany's first-choice goalkeeper after Bayer Leverkusen's Rene Adler was forced to withdraw with a rib injury in April.
Despite wide-spread reports here linking Lahm to the captain's role, German Football Federation (DFB) press spokesman Harald Stenger said on Thursday the headlines were just speculation.
But Loew will give a press conference on Friday, ahead of Germany's friendly away against Hungary on Saturday, when he is expected to name Lahm as captain, with Neuer in goal.