MADRID, May 8, 2010 (AFP) - The Spanish league title will go down to a thrilling final day of the season with champions Barcelona holding a one-point lead over Real Madrid after a tense 3-2 win at 10-man Sevilla on Saturday.
Real defeated 10-man Athletic Bilbao 5-1 at the Santiago Bernabeu although it was not as easy as the scoreline suggested with three goals in four minutes turning the tide.
Barcelona have 96 points, a point ahead of Real, and host Valladolid at Camp Nou on the final day of the season while Real travel to Malaga.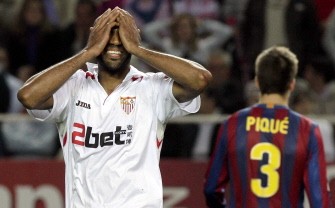 Sevilla's Malian forward Frederic Kanoute reacts during a Spanish league football match against Barcelona at Ramon Sanchez Pizjuan stadium on May 8, 2010. Barcelona won 3-2. AFP PHOTO
As well as the point lead Barcelona have the superior head-to-head record after beating Real in both 'El Clasicos' meaning they would win the league if the two sides finished level on points.
"This was a big step but we do not think we are champions," said Barca coach Pep Guardiola. "We have it in our hands at Camp Nou next week and that is what we wanted.
"However, we are playing against a team (Valladolid) that are fighting for their lives."
Lionel Messi scored a fifth minute opener for Barca for his 32nd goal of the season and Bojan Krkic bagged a second on 28 minutes.
Pedro Rodriguez added a third in the second half before Frederic Kanoute (68) and Luis Fabiano (71) stunned the visitors, who had an extra man after the dismissal of Abdoulay Konko on 56 minutes, with quick goals and Barca had to hold on.
Fortunately for Sevilla they hold on to fourth a point ahead of Real Mallorca who lost 1-0 at Deportivo La Coruna.
Real went past 100 goals for the season with a 5-1 rout of Bilbao although they were helped by the dismissal of Fernando Amorebieta after 21 minutes.
Cristiano Ronaldo made it five goals in three games with a 22nd minute penalty for his 26th goal of the season only for Francisco Yeste to equalise before half-time.
A goal blitz saw Gonzalo Higuain, Sergio Ramos, Karim Benzema and Marcelo score in the final 13 minutes as Real prevented Barcelona from winning the league for one more weekend.
"Barcelona can celebrate whatever they like as there is still one game left to go," said Real coach Manuel Pellegrini.
"It is difficult but Valladolid are fighting to stay up and anything is possible in football."
With five minutes gone Barca got the dream start with Maxwell releasing Messi who was just onside and the Argentine fired in for his 32nd goal of the season.
Xavi then slipped a pass to Bojan who shrugged off his marker to fire home. Messi missed a sitter to make it 3-0 before the interval but at half-time Barcelona knew they would be champions with Real locked 1-1 against Bilbao.
Andres Palop pulled off a wonder save to deny Messi in the second half and Sevilla then shook the champions with Kanoute and Fabiano scoring inside a matter of minutes.
Real knew they couldn't slip up against Bilbao and Guti, 33, started in what could be final appearance at the Bernabeu with reports that he will end his 15-year association with the club and join Galatasaray.
All eyes were on Ronaldo after his hat-trick against Mallorca and he headed over a good chance early on.
Ronaldo was involved again on 21 minutes as his goalbound shot was handled by Amorebieta and Bilbao were handed a double punishment as Amorebieta was red-carded and Real were awarded a penalty.
Ronaldo converted for his 26th league goal and Bilbao were expected to cave in with one man less.
However, four minutes before half-time Yeste jinked his way past four stagnant Real defenders before dispatching the ball past Iker Casillas.
Brazilian Kaka was introduced after the interval and Real found their shooting boots with Higuain, Ramos and Benzema scoring three times in a matter of minutes to down Bilbao.
Incredibly no side has yet to be relegated with Xerez defeating Real Zaragoza 3-2 to survive until the final day of the season.
Xerez are only in the division due to their superior head-to-head record with Malaga who are one of four teams - along with Racing Santander, Malaga and Tenerife - on 36 points.