PHILADELPHIA, Pennsylvania, Aug 9, 2011 (AFP) - German football great Jurgen Klinsmann, drafted in to guide the underachieving United States to the 2014 World Cup, says he's encouraged by what he's seen of his players so far.
"After a couple of days, I'm highly impressed with these guys," said Klinsmann, who will make his debut on the sideline for the United States in a friendly match against archrivals Mexico on Wednesday.
"Jumping into a game this right away is not an easy task, but it's an exciting one."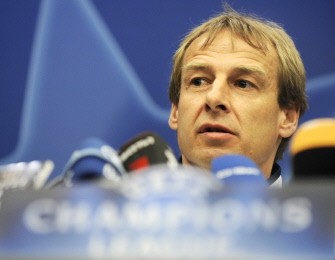 AFP file - Klinsmann
The United States squandered a 2-0 lead to Mexico in losing the Gold Cup final in June, the defeat in the regional championship spelling the end of Bob Bradley's tenure as US coach.
Mexico have only beaten the United States twice on US soil since 2000, but the wins have been in the past two Gold Cup finals.
"We're going to give them a fight," Klinsmann vowed.
Hired on July 29, the coach hasn't had much time to get to know his new players, but then again, he has less than a year before the United States begins regional qualifying for the 2014 World Cup.
"We have a lot of questions to answer over the next couple of months," he said. "I need to make sure the right people are in place."
Klinsmann trained with about 13 players for the first time on Sunday evening and held his first full squad training session on Monday.
Landon Donovan, the all-time leading goal scorer for the United States, liked what he saw and heard from his new coach.
"Jurgen has very positive energy and it's infectious," Donovan said. "I think the guys have already taken to that well. As far as tactical things and a style and an approach to the way we play, that's going to take a while."
Klinsmann has vowed to emphasize player development, something that appeared to be lacking under Bradley.
There's still a Bradley affiliated with the US team, as the ex-coach's son, midfielder Michael Bradley, was called up for the Mexico match by Klinsmann.
He said his father was a "strong guy," who coped professionally with the news of his firing.
"It's part of the game," Bradley said. "Nobody would have expected he was going to be here 20 years. You know that going in.
"My dad, more than anybody, realized that. He was always committed to work as hard as he could and doing whatever he could to help the national team while he was here."
Donavan said he felt "compassion" for the departing Bradley, but hoped a new outlook would energize the US team.
"We're kind of at a tipping point now where it's time to really go for it," Donovan said. "We're not worried about whether Major League Soccer is going to make it or not anymore. We're not worried about, do we have the kids that are talented enough.
"We've seen now we have kids talented enough to play on the world stage. We need to cultivate that more," he added.