LONDON, May 25, 2010 (AFP) - Ledley King admits his disappointing display in England's 3-1 friendly win against Mexico could have damaged his chances of going to the World Cup.
King made his first international appearance for three years at Wembley on Monday, but he was unable to reproduce the fine form he showed for Tottenham towards the end of the season.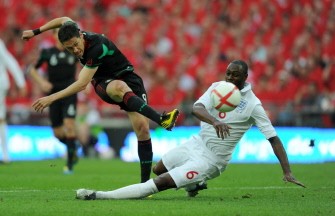 Mexico's Guillermo Franco (L) takes a shot on goal past England's Ledley King during their international friendly football match at Wembley Stadium on May 24, 2010. AFP PHOTO
The 29-year-old looked cumbersome when he was turned by Guillermo Franco in the early stages and there were several other occasions when Mexico's nimble forwards penetrated the English rearguard far too easily.
King did score with a close-range header from Peter Crouch's flick but that failed to overshadow his hesitant display at the back.
With John Terry set to return to the team after being rested following his FA Cup final appearance with Chelsea, there is little chance of King starting in England's opening World Cup group clash against the United States on June 12.
But now he may have fallen behind Jamie Carragher in the fight to be first reserve for Terry and Rio Ferdinand after the Liverpool defender gave a solid display on his return to the England fold after three years in international retirement.
That leaves King, who suffers from a dengenerative knee problem which stops him training regularly, in a fight with Matthew Upson and Michael Dawson for the fourth defensive spot in Capello's 23-man squad - to be named on June 1 after England's final World Cup warm-up against Japan.
"It wasn't one of my best games, but it was tough out there," King said. "They're a good side. They were so comfortable on the ball, they dragged us around a bit and it was difficult.
"The manager made his feelings known at half-time that we weren't getting tight enough but we came out in the second half and did a lot better.
"You just have to dig deep and try to improve when things are hard.
"Every kid dreams about playing at a World Cup. It's something I have watched since a young boy and it would be a dream to go."
King's travails were symptomatic of a curious England performance that contained moments of excellence from individuals but little cohesion from the team as a unit, especially in defence and central midfield.
With James Milner and Michael Carrick struggling to gel in the midfield engine room, only Steven Gerrard and, occasionally Theo Walcott, provided any support for Wayne Rooney.
Gerrard admitted coach Fabio Capello had demanded more aggression from his team at half-time after a spluttering first half display.
"The manager wanted more aggression from the whole team," Gerrard said.
"They had too much possession in the first half, we stood off them and let them play. In the second half we got in their faces and stopped them playing. We need to be more aggressive."
Meanwhile, Capello played down a pre-World Cup injury concern for Rooney.
The Manchester United striker signalled that he wanted to come off with a neck injury just before full-time, but Capello said: "He said he had a small problem in his neck but it is not a problem.
"He wanted to come off for the last two minutes but I had made all the substitutions so it was impossible to change.
"Rooney is okay. At this moment he just needs to play and find his form."
Capello's side led through King's header and increased their advantage when Peter Crouch scored from barely a yard out after Rooney's header was tipped onto the crossbar.
Franco prodded home for Mexico on the stroke of half-time, but Glen Johnson's superb long-range strike two minutes after half-time ensured England had a winning send-off in their last home friendly before the World Cup.
With Gareth Barry not certain to be fit for the USA game as he battles to recover from an ankle injury, Capello switched Gerrard back from left-wing to his more natural central midfield role in the second half and the Italian hinted the Liverpool captain could play there in South Africa.
"We never suffered a lot during World Cup qualification but this time, I put two different players in, Milner and Carrick," Capello said.
"I changed it after half-time and put Steven in the middle, where he played very well.
"He is a really good player and can play in midfield, as a number 10, in lots of different positions.
"Gerrard can play in midfield with Frank Lampard but we have to wait and see which players will be fit.
"I am not concerned by this match. It was really important to know where we are now, physically and mentally after a long season.
"We have time to recover a lot of the spirit of the team and the qualities we have."