LONDON, May 10, 2010 (AFP) - Carlo Ancelotti set his sights on surpassing Jose Mourinho's achievements at Chelsea after emulating his rival's feat of winning the Premier League in his first season at Stamford Bridge.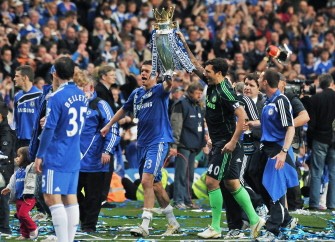 Chelsea players celebrate the Barclays Premier league trophy after they win the title with a 8-0 victory over Wigan Athletic on May 9, 2010. AFP photo
Ancelotti has been forced to play second fiddle to Mourinho for much of the last two years after being eclipsed by the Inter Milan coach in Italy and then in the Champions League.

But after Sunday's magnificent 8-0 win over Wigan secured the English title, Ancelotti will no longer have to listen to so many unflattering comparisons with Mourinho.
He can even go one better than the Portuguese if Chelsea beat Portsmouth in Saturday's FA Cup final to clinch the double - something Mourinho never achieved with the Blues.
"Mourinho did some fantastic work and won two titles consecutively. This is my first and I hope to do the same as Mourinho," Ancelotti said.
"Now we have the opportunity to win the double and I hope that my players can, after these celebrations."
In his final season with AC Milan, Ancelotti had to watch his aging squad swept aside by Inter as well as suffering the provocative jibes of Mourinho, who took every opportunity to wind up his cross-town rival.
Moving to England to take charge at Chelsea last year offered Ancelotti no immediate respite from Mourinho as the Italian found every aspect of his style and CV weighed unfavourably against his Portuguese predecessor.
Whereas Mourinho's arrival at the Bridge left no one in any doubt about the self-proclaimed special one's abilities, Ancelotti was content to promise only that he would do his best for the club.
But, after eight years at Milan and stints in charge at Parma, Juventus and Reggiana, Ancelotti adapted impressively to his first managerial job outside Italy.
He won two Champions League titles during his time with Milan, but his track record in Serie A suggested it might take him a while to adjust to the unique demands of the Premier League.
Only in 2004 did Ancelotti get his hands on the Italian championship and he had developed a worrying trait of letting the title slip through his grasp when it appeared to be his for the taking.
Just as at Milan, Ancelotti was dealing with a vastly experienced squad that many felt were past their peak. But, unlike his San Siro group, this Chelsea team still have a burning desire for success.
They made a strong start, winning their first eight matches in all competitions before a shock defeat at Wigan showed there would be no stroll to the title.
However, unlike Mourinho, there were never any distracting histrionics from Ancelotti whenever Chelsea stumbled.
With the title race too close to call, the last thing Ancelotti needed was a reunion with Mourinho, but that was what the Champions League last 16 draw threw up.
Once again Mourinho got one over on Ancelotti as he masterminded a victory in Milan and then stifled the Blues brilliantly in a second leg triumph back on his old stamping ground in west London.
That defeat provoked a furious response from Roman Abramovich as the Chelsea owner fumed at losing to the man he had sacked following a bitter power struggle three years earlier.
Abramovich called a meeting in which he made his feelings known to Ancelotti and his players, but the Italian kept his cool and held his own talks with the squad to clear the air.
The response was emphatic as Chelsea won eight of their last nine matches to lift the title for the first time since Mourinho triumphed in 2006.
It was also the manner of Chelsea's play that helped to put Mourinho to the back of Chelsea minds.
A record Premier League haul of 103 goals was testament to Ancelotti's commitment to attack and came as a marked contrast to Mourinho's more conservative tactics.