FRANKFURT, July 18, 2011 (AFP) - Coach Norio Sasaki has urged Japan captain Homare Sawa to keep on playing and help the newly-crowned women's World Cup winners qualify for the 2012 London Olympic Games.
The 32-year-old scored the crucial 117th-minute equaliser in the final against the USA which tied the scores at 2-2 after extra time as Japan won the penalty shoot-out 3-1 to claim the title, despite being reduced to 10 players.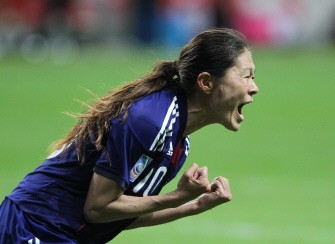 AFP - Homare Sawa celebrates scoring during the final match Japan vs USA on July 17, 2011 in Frankfurt
It was Sawa's fifth goal of Germany 2011 and the star midfielder scooped two awards as she was voted player of the tournament and also won the Golden Boot as the top-scorer.
She has hinted she may retire after leading her side to victory in her fifth World Cup, having made her tournament debut in 1995, but Sasaki has urged her to continue.
"I know the foreign media focus on Homare Sawa, some people believe she is burned out because of her extraordinary performances here," he said.
"Some people wonder if Sawa is going to continue playing, she is a genuine all-rounder.
"It would make sense for her to retire at this point, she said she has achieved a lot, but I told her, look, you must continue.
"She has said she will retire, but that was just a joke.
"We are looking forward now to the Olympic qualification games which start in September and there will be more opportunities to see Homare Sawa."
The Japanese had defender Azusa Iwashimizu sent off in the 121st minute of extra time for a foul on US striker Alex Morgan, but in the dramatic penalty shoot-out, Japan goalkeeper Ayumi Kaihori was the hero of the hour as she saved two penalties.
Defender Saki Kumagai then hit the winning spot-kick to trigger scenes of delight amongst the Japanese.
"My players were patient to the very last," said Sasaki.
"They were unexpectedly cool-headed in the penalty shootout as they felt content reaching the final.
"I am surprised myself at the victory."
Sasaki has said his team has little time to celebrate as they fly home on Monday and most of them are expected to play for their clubs this weekend in Japanese league matches.
Having fought back twice to force the final to be decided by penalties, Sasaki said his side were more relaxed in the shoot-out.
"It seemed to me there was more pressure on the Americans," he said.
"We had made it all the way to the final, extra time and penalties, we had come a long way, so maybe we handled the pressure better, we had twice come back and that eased the psychological pressure."
After the devastating earthquake and tsunami which killed tens of thousands in northeast Japan on March 11, Sasaki said messages of support from back home had played their part in victory.
"We had lots of support and messages from Japan and that was one of the keys for success," he said.