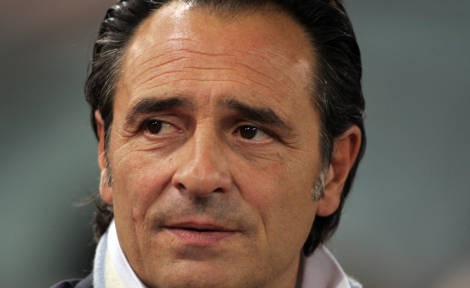 (File) Prandelli
ROME, Aug 1, 2011 (AFP) - Italy coach Cesare Prandelli said the 2006 World Cup winners will be aiming to win their qualifying group for the 2014 tournament.
Only the nine group winners are guaranteed a place at the finals in Brazil while the runners-up are not even guaranteed a play-off spot.
As one of the top seeds, Italy drew Denmark, Czech Republic, Bulgaria, Armenia and Malta.
"Our main aim is to grow as a team so that we will be prepared when we face our able opponents," said Prandelli.
"But we are Italy and while being cautious and showing respect for everyone, our aim is to win the group."
But with the likes of Denmark, Czech and Bulgaria in the group, Prandelli refused to be drawn on who would be their toughest challengers.
"As usual if you point out one then there are always surprises," he said.
"There's still a long way to go before the World Cup qualification and so as far as I'm concerned, for now our aim is to concentrate on the qualification for the European Championships."
Italy are well placed in that competition as they lead Group C by five points from Slovenia, needing two wins from their final four matches to ensure top spot.
Italy's World Cup-winning coach from 2006 Marcello Lippi said he expects the country to qualify because they almost always do.
"Whether talking about World Cup or European Championship qualification, apart from rare exceptions, it's never been a problem for Italy," he said.
"One way or another we qualify and often by winning the group.
"Obviously showing the right consideration for all our opponents, none of whom are weak, but I don't think we'll have any problems qualifying."
Italy and Juventus goalkeeper Gianluigi Buffon said it was Italy's obligation to go to the World Cup.
"I think it's our obligation but I hope we get there smoothly," he told SkySport24.
"There are (tough) teams such as Czech Republic and Denmark but we should beat them at home.
"There are never easy games, you have to fight to win.
"For example, I've played against Denmark three times and only won once.
"It's a group we can win but none of the teams lie down like a mattress."
Italian Football Federation (Figc) president Giancarlo Dondi said the main thing was to avoid the two big-guns in the second pot.
"The outcome (of the draw) seems in line with our expectations," he said.
"I think it's a good draw, although we must be prudent, given that we didn't draw either of the two most dangerous teams in the second pot, Russia and France."