Wesley Sneijder may not sell as many Real Madrid shirts as David Beckham but the Dutch international, who inherited the England star's number 23 shirt, certainly has his dead-ball skills, scoring twice as the champions undid Villarreal 5-0 on Sunday.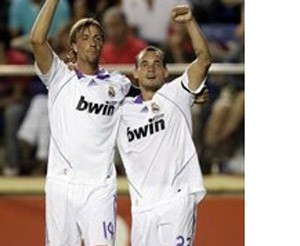 Real Madrid's Dutch Wesley Sneijder (R) celebrates with Guti after scoring against Villarreal
Earlier, Barcelona had notched their first win of the new season with Brazilian Ronaldinho scoring twice in a convincing 3-1 victory over Athletico Bilbao. But Real were even more impressive building on last weekend's 2-1 derby win over Atletico, who drew 1-1 with Mallorca on Sunday, with a one-sided defeat of Villarreal, who had won their last nine league matches.
Captain Raul opened the scoring on 38 minutes, before Sneijder stole the show with a fantastic free-kick reminiscent of Beckham in his prime. "I am really happy with his goals. We know he has good technique and a shot that can be very effective," said Real coach Bernd Schuster. "I am sure he is going to score more goals this season."
The former Ajax man scored again for his third goal of the season with compatriot Ruud Van Nistelrooy, the league's top-scorer last season, and Guti completing the rout. "Scoring first was very important today," admitted Schuster. "The first five minutes (when Real scored twice) of the second half were also good for us because it left them deflated.
"Next month is important for us because we start the Champions League campaign but at the moment we are going to enjoy it because you don't score five goals every day."
Ronaldinho steals the show
Real are the only team with the maximum six points, with Barcelona and a number of other teams chasing on four. French international forward Thierry Henry, a 24-million-euro summer signing from Arsenal, made his first league start in Barcelona's colours but it was Ronaldinho, their top scorer last season with 21 goals, who took the headlines.
Ronaldinho scored a trademark free-kick after just eight minutes, the club's first goal of the season, and he was on target again on 34 minutes converting a penalty after Henry had been felled in the area. Henry came off to a standing ovation just after the hour mark with just a goal missing from a stellar display.
"Henry showed his quality and how dangerous he can be in games like this," explained Barcelona coach Frank Rijkaard. "I was happy with the result and thought we played with a lot of energy especially in the first half when we created a number of chances.
"We dropped off in the second half but took the points and that is important."
Valencia, fourth last season, got their season on track with a late 2-1 win over Almeria. Veteran Spanish international striker Fernando Morientes replaced the suspended David Villa in attack and proved an able deputy netting shortly after half-time to put his team in front.
However, Almeria equalised and Valencia, who lost 3-0 to Villareal in their opening game, needed a rare goal from Italian Emiliano Moretti ten minutes from time to seal their first win of the season.
Elsewhere, Real Betis players all wore the No16 shirt with the name 'Puerta' on their back as a tribute to Antonio Puerta, who played for their arch-rivals Sevilla and died on Tuesday from multiple organ failure. Betis scored twice in the final seven minutes to salvage a 2-2 draw with Espanyol.
Sevilla are not in action this weekend due to a fixture back-log and Monday's league match against Osasuna has been postponed as the club will face AEK Athens in the second-leg of their UEFA Champions League qualifier.