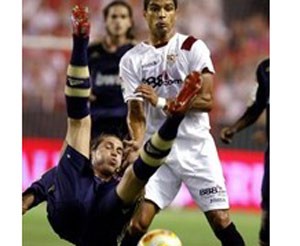 Sevilla's Florencio Renato (R) fights for the ball against Real Madrid's sergio Ramos
Brazilian striker Luis Fabiano scored from the penalty spot to give Sevilla a 1-0 win over Real Madrid in the first leg of the Spanish Super Cup on Saturday.
Fabiano converted the 28th minute penalty after Sergio Ramos brought down Duda as the Spanish Cup and UEFA Cup holders got the better of the league champions.
It was the second defeat in two days for Real after new coach Bernd Schuster had seen his side lose 2-1 to Deportivo La Coruna in the Teresa Herrera final on Thursday.
The second leg of the Super Cup takes place at the Bernebau stadium on 19 August.