Ronaldo looks set to miss another month of action after AC Milan's medical staff admitted to miscalculating the seriousness of the striker's thigh injury.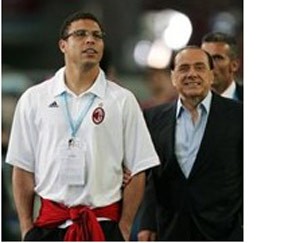 AC Milan's president Silvio Berlusconi (R) and Brazilian football star Ronaldo
The club had said the Brazilian would be fit for the start of the season after he sustained the injury at the end of July, but the 30-year-old has yet to play for the European champions this campaign.
"We got the first diagnosis wrong," Jean Pierre Meersseman, the head of Milan's medical department, told La Gazzetta dello Sport on Monday.
Ronaldo travelled to Antwerp last week for a second opinion after getting frustrated at his lack of progress. He is now receiving treatment from the Brazilian national team doctor, Jose Luis Runco, in Rio de Janeiro.
"At the start of next week, we'll know more, but I think he'll be able to play in about a month," said Meersseman who added that the player would return to Milan on Wednesday..
Ronaldo's extended absence means he will miss the start of Milan's defence of their Champions League title at home to Benfica next week and probably the game against Celtic in Glasgow on 3 October.
Ronaldo scored seven goals for Milan in Serie A last season but was unable to take part in their Champions League campaign because he was cup-tied after moving from Real Madrid in January.