AC Milan's joy at winning the UEFA European Super Cup last Friday was doused on Monday as they were held 1-1 by Fiorentina in their Serie A clash. Milan, who beat Sevilla 3-1 on Friday in Monaco, looked to be on their way to joining AS Roma and Juventus at the top of the table when Brazilian star Kaka scored from the penalty spot - his third goal of the season - in the 27th minute.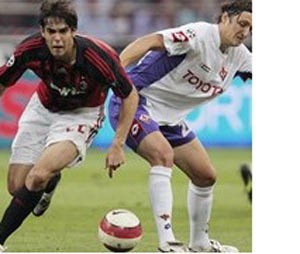 AC Milan's Kaka (L) fights for the ball with Fiorentina's Zdravko Kuzmanovic
However, fatigue seemed to set in in the second half for the Milanese giants and Fiorentina took advantage when former Chelsea striker Adrian Mutu headed the equaliser in the 56th minute. Milan pushed forward looking for a winner but found Fiorentina's French goalkeeper Sebastien Frey was equal to the efforts of both Filippo Inzaghi and Kaka.
Milan coach Carlo Ancelotti said he was disappointed not to wrap up the three points but admitted that the task of playing twice in such a short space of time had affected his players. "I am always angry when we don't get the maximum points, but in this case we did everything we possibly could," he said.
"We tried to win and ran quite a few risks, but so soon after our last game it was understandable we had some difficulties. After that equaliser we took back the initiative and wanted the victory, so we poured forward and became a little unbalanced, but I cannot fault my team for anything.
"We faced a strong side that were organised, fresh and made life difficult for us. At times we poured forward in waves without a great deal of patience or organisation, but at least that is a sign of a team with heart."
Fiorentina coach Cesare Prandelli put his team's comeback down to a change of tactics after the break. "We changed our approach in the second half. At the end of the first period we told ourselves that continuing that way would probably lead to us conceding a second, so we may as well push the defence further up the field," he said.
"It is true we allowed a few more counter-attacks that way, but when you come to Milan you have to attack and take advantage of the space."
The result meant that both sides moved on to four points, two off joint leaders Juventus and Roma. But Prandelli saw enough to suggest that his team could keep pace with the top sides this season.
"We are convinced that over time we will be rewarded for our work, because I have some quality players who need patience. Games like this give you the confidence that you can believe in your chances," he said.
And Mutu has grasped his chance at leading the line since Luca Toni's defection to Bayern Munich. "He gives extra value to the squad, has class and character," added Prandelli of Mutu. "He has great vision and we are very happy to have him here. I hope he repeats the wonderful things he did last season, although in my view he can do even better."