Sunderland manager Roy Keane said on Tuesday he was interested in resurrecting the career of his old Manchester United teammate Andy Cole.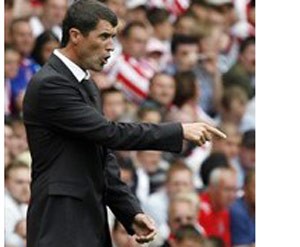 Sunderland manager Roy Keane
The 35-year-old has been looking for a club since Portsmouth let him go at the end of last season.
Keane is looking to make two more signings before the transfer window closes at the end of August and has been chasing forwards.
However, his interest in Tottenham striker Mido seems to have ended, with the Egyptian international undergoing a medical at Middlesbrough, moving Cole up the target list.
"Coley has obviously left Portsmouth and that is something I am looking at," the Irishman said. "There will probably be news on one or two players who will be coming in.
"If we could add two players in the next week or two I would be delighted. I am very pleased with the players we have got in but I do believe we need two more players to help the squad," Keane stressed.
Cole is the second-top goalscorer in English Premier League history with 188 goals scored for Newcastle, Manchester United, Blackburn, Fulham, Manchester City and Portsmouth.
He also brings a wealth of experience, having won five Premier League titles, two FA Cups, the League Cup, the Champions League and the Intercontinental Cup.
Cole made his name at Sunderland's bitter north-east rivals Newcastle, but that did not stop Keane bringing former Magpie Michael Chopra to the newly-promoted Championship winners in the pre-season.
The Newcastle-born and bred striker scored a last-ditch winner in this season's opening Premier League game on Saturday as the Black Cats beat Tottenham 1-0.