England's injury problems will not be a factor against Russia next week in their UEFA EURO 2008 Group E qualifier, according to Russia coach Guus Hiddink.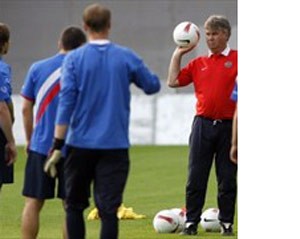 Russia coach Guus Hiddink (red) warms up his team at Maksimir Stadium in Zagreb
Steven Gerrard did not train with the England squad on Wednesday because of his broken toe and is still a major doubt for the clash with Israel at Wembley on Saturday.
England manager Steve McClaren has also been deprived of the likes of midfielders David Beckham and Frank Lampard and striker Wayne Rooney while forward Peter Crouch is suspended for the Israel game.
Even if England beat Israel, the meeting with Russia at the same stadium four days later could prove to be the decisive fixture in a tight group led by Croatia.
"I don't complain about injuries. I try to find solutions and I think England will do the same," Hiddink told reporters on Wednesday. "Injuries are part of the game and you must learn to deal with them."
The spotlight for England has fallen on the fitness of Gerrard, who missed Liverpool's 6-0 Premier League victory over Derby County on Saturday because of his toe injury.
With Lampard missing, McClaren is desperate for Gerrard to be available for the qualifiers and media speculation is rife that he may play with the aid of a pain killing injection.
Owen Hargreaves, who is a certain starter in England's midfield after overcoming his own injury problems, believes it could be a risk to play Gerrard.
"Sometimes you have to do things to be fit and play in games. But Stevie is only young and you want him to be fit for a long time and not just for one game and 90 minutes," he told reporters at England's training base on Wednesday.
Even if Gerrard joins the absentees, Hargreaves believes England have the strength in depth to get the victories they need to put qualification for Euro 2008 in their own hands.
"We definitely have enough depth to win these two games. The squad is very good. Although we don't have all our best players available we just have to get on with it," he said.
England are fourth in the group with 14 points while Croatia and Israel have 17 and Russia are on 15, although the Israelis have played eight matches -- one more than their rivals.