Real Madrid on Thursday unveiled new signings Arjen Robben and Gabriel Heinze at the Bernabeu stadium after they passed medicals with both men saying they were delighted at the opportunity to swap the English Premiership for La Liga.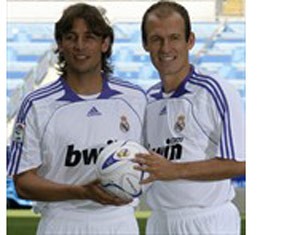 Real Madrid's new-signings Dutch winger Arjen Robben and Argentine defender Gabriel Heinze pose
Dutch winger Robben, 23, arrived from Chelsea on a five-year deal and a fee of around 30 million euros while Argentine defender Heinze, 29, joins from Manchester United on a four-year deal for 12 million after United had staved off his preference of a move to rivals Liverpool.
Heinze insisted he was delighted at his move as "every player wants to play for Real Madrid, one of greatest clubs in the world."
The Argentine, who follows in the footsteps of David Beckham and Ruud van Nistelrooy in treading a path from Old Trafford to the Bernabeu, will step into the void created by the loss of veteran Brazilian Roberto Carlos, who has joined Fenerbahce in Turkey.
Robben meanwhile comes in to provide some penetration on the left with Jose Antonio Reyes having moved to Atletico Madrid after spending last season on loan to Real from Arsenal.
"It was an amazing feeling when I walked down the steps" to milk the applause of thousands of fans, Robben said.
He added: "It was a big relief yesterday when the final word came I could join Madrid. I am enjoying every minute of it."
The Dutchman admitted he had had a difficult time of it in recent months at Chelsea amid the continuing speculation that he would be on his way after three seasons at Stamford Bridge.
Under manager Jose Mourinho, Robben helped the west London club win the English Premier League in 2004/05 and 2005/06.
But Chelsea chairman Bruce Buck claimed the deal represents good business for the English side.
"I think we got a very good business result there, we pretty much doubled our money in terms of the transfer fee three years ago," Buck said.
"Jose said in the US in July we wanted Robben to stay. He's a very good player and made a real contribution to Chelsea.
"For reasons only he can answer he wanted to leave. We weren't going to let him leave unless there was an appropriate business resolution, and (Chelsea chief executive) Peter Kenyon did some very good business there.
"We wanted him to stay, he made a contribution and we wish him well."
Real have brought in eight new players this season as they bid to retain the title under new German coach Bernd Schuster.