Steven Gerrard has warned England they can't afford to let their convincing win over Israel lull them into a false sense of security ahead of a vital UEFA Euro 2008 clash against Russia.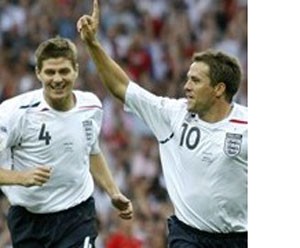 England's Michael Owen (R) celebrates scoring against Israel with teammate Steven Gerrard
Gerrard has passed himself fit to feature at Wembley on Wednesday despite the broken toe that has troubled him for several weeks because he knows how important the match will be to England's qualifying chances.
It would be easy for Steve McClaren's players to get caught up in the wave of optimism that swept around Wembley after the 3-0 win, but Gerrard believes Guus Hiddink's Russians will pose a much sterner test.
A win would take England into the second automatic qualifying spot in Group E and the Liverpool midfielder told Sky Sports News: "It was a positive performance from the team on Saturday. We want to enjoy that and take the boost and confidence into the next game.
"But we can't be complacent. Russia are a fantastic team. If we don't play at the same level as we did against Israel it will be very difficult.
"It's going to be a tougher match with all respect to Israel, the opposition are stronger and more organised and have that little bit more quality."
Gerrard admits McClaren faces a selection headache after Emile Heskey, Shaun Wright-Phillips and Gareth Barry all staked claims to stay in the team with impressive displays against Israel.
Peter Crouch is back from suspension and could replace Heskey, while Owen Hargreaves could come in for Barry if the midfielder recovers from a thigh injury.
"The manager has a difficult decision to make," Gerrard said. "Quite a few players came in and did well. There is competition for places all over the pitch but as a manager those are the problems you want to have.
"Emile is the sort of player you want in the team. He's been out of the picture for a long time, but he worked really hard. He and Peter Crouch are both capable of doing a terrific job on Wednesday."
Gerrard enjoyed being reunited with his long-time friend Barry at the heart of England's midfield. The pair combined perfectly in stark contrast to the spluttering partnership between Gerrard and Frank Lampard.
"I think the partnership with Gareth was really effective considering we only trained together twice before the game," Gerrard said. "Gareth was thrown in at the deep end, but he coped really well. We've been good friends off the pitch for a long time and we were really pleased with how it went."
Another member of England's midfield quartet on Saturday with reasons to be cheerful is Wright-Phillips. The Chelsea winger scored his second international goal and produced his most convincing display in 14 England appearances.
He admitted his ability to keep a positive frame of mind has helped him through a difficult two years when he has struggled to win a regular place for club and country.
"I am not really a negative thinker, I always try to think positive," Wright-Phillips said. "The main thing is that everybody, my family and friends, my dad, they all had the belief in me.
"That was the key factor. They kept me smiling and for me that is the main thing, as long as you are happy and you have confidence in yourself, then life goes on."