The FIFA Women's World Cup is the stage that every female footballer aspires to reach. For some, it is a perk of their day job. Others, however, are forced to find alternative ways of paying the bills while practising their football as and when they can.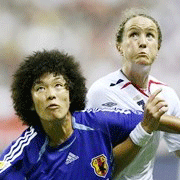 Japan - England
From Norwegian classrooms to Japanese supermarkets to a zoo in Australia, FIFA.com takes a look at how some of the China 2007 competitors earn their crust.

Headline-writer turns headline-maker

Headlines are something that Ragnhild Gulbrandsen is used to writing through her occupation as a journalist back in Norway. On Chinese soil, though, she has been the subject of her fellow scribblers' titles. This was certainly the case in Hangzhou on Thursday, when her splendid treble drove Norway to a 7-2 win over Ghana.

Among Gulbrandsen's colleagues in the Norway squad, meanwhile, Bente Nordby, Camilla Huse and Lene Storlokken are all school teachers, Solveig Gulbrandsen is employed as a marketing consultant and Marit Fiane Christensen is a lawyer.

Australia's players, who joined their Norwegian counterparts in progressing from Group C, also have some interesting day jobs - nobody more so than goalkeeper Lydia Williams, who works for the national zoo in Canberra. Potentially, she could yet be charged with taming the 'Three Lionesses' in the semi-finals, which would give the headline-writers a field day.

Sarah Walsh, who netted the Matildas' first goal of the campaign, works in a sports shop, where she will have felt proud to see customers depart with gold-and-green replica kits before flying out to the Far East. For her part, defender Dianne Alagich is a customs officer.

Japan have already headed home from China 2007, allowing striker Eriko Arakawa to get back to serving customers in the Japanese supermarket, where she works as a checkout girl. Before leaving China, the lively NTV Beleza player explained how her employers at the Seiyu store in Tokyo's Merima district made special allowances for her sporting commitments. "For every three days I work, I have six days off for football. The company has helped me to concentrate on football more than ever and I'm really happy with the arrangement."

Box to box

While Arakawa spends much of her time seated at work, England's Vicky Exley is very much an active girl when undertaking her weekly duties. A postwoman by trade, trawling through the streets to deliver mail has apparently helped build up Exley's stamina, which allows for her identifiable, box-to-box coverage of the turf.

For some of the tournament's participating players, however, their daily routine back home is very much football-related. Germany No10 Renate Lingor works in a German Football Association department that works towards getting youngsters involved with sport. "If it's football, then I'm even happier," she said.

England's outstanding playmaker Kelly Smith works for the club she represents. "I'm lucky enough to work and play for Arsenal, so I get the best of both worlds," she explained. "I get to coach the youngsters, but I also get the time to train and get into the best possible shape for my club and for my country."

Smith's England team-mate Casey Stoney also employs her expertise in a coaching capacity. Working at the David Beckham Academy in Greenwich, the 25-year-old's role is to hone the talents of teenage girls who possess the same dream as she is currently realising: playing in the FIFA Women's World Cup.