Two heavyweights of the European women's game go head to head when reigning world champions Germany meet the 1995 winners Norway for a place in this year's final. This meeting of the only two European nations with their names already on the FIFA Women's World Cup trophy is a re-run of the 1995 final and it promises tension, drama and football of the highest quality.
The game
Germany-Norway, Tianjin, Wednesday 26 September, 20:00 (local)
The stakes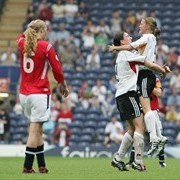 Germany captain Birgit Prinz (9) and Sarah Gunther celebrate victory over Norway
Germany must be considered favourites for the match given they are the only team yet to concede a goal at the tournament. On the other hand, Norway have often proved a stumbling block for the German women in the past. There is little to choose between the teams in terms of tactics, skill, physical strength and experience, so form on the day could well prove decisive in determining which nation progresses to Sunday's Final in Shanghai.
The players
While Germany coach Silvia Neid can select from a full squad, her Norway counterpart Bjarne Berntsen will have to do without key attacking midfielder Lene Mykjaland. The ill 20-year-old has picked up a stomach bug and been isolated from the rest of the squad, though she is still hopeful of being fit and well enough to take her place on the Norway bench for the final or third-place match.
The past
The history of the fixture has the sides running practically neck and neck. Germany and Norway have met on 28 previous occasions, with 12 wins to the FIFA World Cup holders, and 11 to the 1995 champions. The pair have already met twice this year: the Scandinavians chalked up a 2-1 success at the Algarve Cup in March, before a 2-2 draw in Mainz at the end of August in both teams' final warm-up match before setting off for China. Their two most high-profile meetings came ten years apart, Germany beating Norway 3-1 to take the European crown in 2005, a full decade after the Scandinavians' 2-0 triumph in the FIFA Women's World Cup final.
The birthdays
Germany right-back Kerstin Stegemann will hope to still be in China to celebrate her 30th birthday on the eve of the Final.
The words
Norway are one of the very best teams in the world. The slightest detail could make the difference against such a good side. We know just how strong they are, we played them in Mainz in our final pre-tournament warm-up. It finished 2-2 and it was as closely fought as the score suggests, so there's no risk of us underestimating them - Birgit Prinz, Germany striker
We're definitely not just happy with the semis, we want to finish on top now. But Germany are a very tough side who have shown their quality over many years, so we will need to be prepared. But we showed that we can match them when we drew 2-2 before the tournament. It was a good game, a close game, and I'm sure you can expect the same kind of quality when we meet in the semi-finals -
Ane Stangeland Horpestad, Norway defender