Going into the match, she was the joker in the Norwegian pack, the one player China PR did not expect to start. By the end, Isabell Herlovsen had also proved Bjarne Berntsen's trump card.
In her first start at China 2007, Norway's youngest player certainly stayed ice-cool in the white-hot atmosphere in Wuhan, impudently robbing Wang Kun on 32 minutes before sending an unstoppable shot high into the net with her weaker foot.

The goal ultimately settled a match in which Berntsen's side often found themselves on the back foot, and although it merely added to Hervlosen's first FIFA Women's World Cup strike - as a substitute in the 7-2 win over Ghana - the 19-year-old was in no doubt over which was the sweeter.
"Today's was definitely very, very special to me, I will always remember it," she told FIFA.com. "China was a tough opponent and I think we only got there in the end because we worked as a team. But the goal was special personally, it was just a fantastic moment.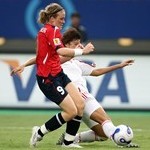 Norway's Isabell Herlovsen nips in ahead of Wang Kun to score against China
"I could see the defender was running away from the ball rather than going towards it, so I saw my chance, took the gamble and was lucky enough to score. And it was my left-foot too! I am right-footed so it was extra special. I didn't know what to do at first after it went in but then I ran to the substitutes because I had promised them beforehand I would do that if I scored."

Big game hunter
The reaction of her team-mates certainly confirmed not only the significance of the strike, but also how highly regarded Herlovsen is within the Norway camp. The youngster may have been a bit part player during the group stage, but as Solveig Gulbrandsen pointed out, at just 16, the dynamic striker was already scoring vital goals for her country against France and Sweden in the 2005 UEFA Women's Championship.

"I'm delighted for her," said the midfield playmaker. "I've actually been waiting for her to do something like that because she's a player who, as she showed in 2005, has this ability to come up with something when our team needs her."

The question now is whether Berntsen will decide that he requires Herlovsen's bustling, direct style and ability to rise to the big occasion when his side go head to head with the holders in Tianjin.
"That's up to him but I would love to play, that goes without saying," said the teenager. "I think it will be two very good and very closely-matched teams. We played against them before coming here and drew 2-2, so we know we can match them.
"They are a good side and it will be tough for us. But we will go into the game with confidence. Hopefully I have done enough to convince the manager I should play, but I don't know. We'll just have to wait and see."