LONDON, May 16, 2010 (AFP) - Should Inter Milan beat Bayern Munich to win the Champions League next Saturday in Madrid for their third European Cup trophy but first since 1965 it would represent an incredible achievement their charismatic Portuguese coach Jose Mourinho told the Sunday Times.
The 47-year-old - who could add the Serie A title to the Italian Cup later on Sunday - said that while Porto's victory in the 2004 edition had been superb, this would be on a different plane to that success.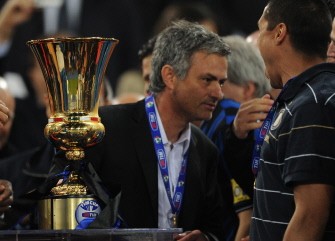 Mourinho celebrates with the Cup after Inter Milan defeated AS Roma in the Italian Cup final on May 5, 2010 at Olimpico stadium in Rome. AFP photo
"Ah, in Porto we did it, we won UEFA Cup, Portuguese Cup and championship (2003) and the next year we won the Super Cup, championship and Champions League, so we did three out of three," said Mourinho, who would become the youngest coach to win the European Cup twice should Inter defeat the newly-crowned German champions.
"But this would be an incredible achievement because the level of competition is so high, and our road to the final was an incredible road.
"We got (in the group phase) Barcelona, European champions, Rubin Kazan and Dynamo Kiev, champions of Russia and of Ukraine. After that we get Chelsea, after that we got CSKA, a little bit of fresh air in the middle of the storm.
"And after that we play Barcelona again and always playing the second game away from home, always.
"It was an incredibly difficult way to get to the final, which people sometimes forget," added Mourinho.
Mourinho told the newspaper that the moment his side began to believe they could go the whole way in the Champions League and reach their first final in European club football's premier club competition since 1972 was after beating his former side Chelsea in the last 16.
"When we beat Chelsea we broke through a psychological wall," said Mourinho, whose signings of Brazilian World Cup winning defender Lucio, Samuel Eto'o and Wesley Sneijder while ditching several turbulent souls such as Adriano have transformed the club.
"Especially the way we did it, and especially because we did it with two victories and no doubts that we deserved to do it. It was what the team needed; especially sone players with years and years of disappointment at Inter.
"After beating Chelsea they could do it against anyone."
Mourinho, whose sides Porto, Chelsea and Inter have not lost a home match for seven whole seasons, was also scathing about the recent Premier League title that Chelsea under Carlo Ancelotti - with whom he enjoys less than friendly relations - landed in a race that went down to the wire against 2009 champions Manchester United and saw the winners accrue the lowest points total since 2003.
He was especially critical of the difference in the quality of the teams that competed for the title with those that he faced when in charge of Chelsea where he won two titles in 2005 and 2006.
"I'm happy Chelsea won it. They had the record of goals. But please don't compare this Man Utd with my Man Utd.
"Don't compare this Arsenal with my Arsenal. My Arsenal was a team that won the league without one defeat in 2003/04. Don't compare this Liverpool with my Liverpool. Liverpool is an incredible phenomenon.
"From 2004-2010 it looks like the team instead of improving is getting worse.
"And don't compare this Premiership with my Premiership. Don't compare because you can't compare."
Mourinho freely admits that while he loves Inter he is not so happy with Italian football and the atmosphere surrounding it and could easily be prised away in the summer.
"Everybody knew I was in love with English football, with English competition, with English mentality," said Mourinho.
"In Italy it was a little bit the opposite - the same way I was honest in England, I'm honest here, and I was saying many many things in the game I don't accept, I don't understand.
"When people get this kind of feedback probably its easy for them to not be in love with me.
"But last weekend, Genoa-Milan: zero spectators, the game closed because of security reasons. What is this? Is this football? Is this war? Cup final in Roma: Inter supporters afraid to go.
"What is this? Is this a cup final? Some decisions in the game, the way they suspend me they don't suspend other people, the way presidents speak about other presidents, the way managers speak about other managers. This is not my natural habitat."