MILAN, May 22, 2010 (AFP) - Inter Milan fans rejoiced in the streets of the northern Italian city late Saturday to celebrate Inter's 2-0 win over Bayern Munich, which gave the team its first Champions League title in 45 years.
"I saw Inter's last final that Inter won with Mariolino Corso and now after more than 40 years I am still with Inter. The great, immense Inter!" a supporter from Milan told AFP-TV after the match.
Fans drove by in scooters and cars holding black-and-blue flags in Milan's streets and lit firecrackers in a packed Piazza Duomo, the city's main square.
Many chanted for Inter coach Jose Mourinho to stay with the team, amid rumours that he is being courted by Spanish powerhouse Real Madrid.
"It's more likely that I will leave rather than stay," Mourinho told Italian television minutes after the match.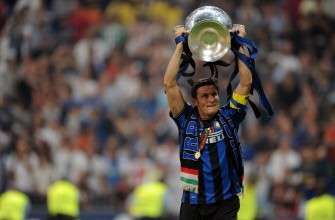 Inter Milan's captain Javier Aldemar Zanetti celebrates with the UEFA Champions League trophy at the Santiago Bernabeu stadium on May 22, 2010. AFP photo
Mourinho, who joined Inter two years ago, and has also won two Serie A titles and an Italian Cup.
"We are super happy! Thanks to the players, thanks to Mourinho!" a young Inter fan said.
Starting two hours before the match began, Milan's Duomo square was packed with tens of thousands of flag-waving fans waiting to watch the game on two giant screens.