ROME, May 16, 2010 (AFP) - Inter Milan players vowed to celebrate their fifth straight Serie A crown following Sunday's 1-0 win at Siena but their thoughts turned quickly to the Champions League final.
Inter play Bayern Munich in Madrid on May 22 when both teams will be bidding to make history respectively by securing a league, cup and Champions League treble.
Inter completed the second leg of their quest as they finished two points clear of AS Roma thanks to a winning goal from top scorer Diego Milito.
Coach Jose Mourinho said this was the first time in six titles (two each with Porto, Chelsea and Inter) that he had experienced a final day title decider, and that he hoped it would be his last.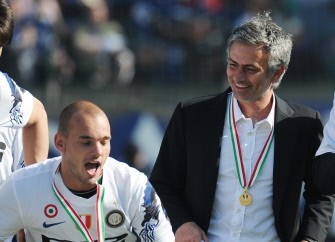 Inter Milan's coach Jose Mourinho (R) celebrates with Wesley Sneijder during the ceremony of the Italian Serie A title on May 16, 2010 in Siena. AFP photo
"I'd never won a title before on the last day and don't want to do it again, I prefer winning it with four or five matches to spare," he said before deflecting a question about his future, which remains uncertain.
"I will think about my players, the fans, Inter and my work. Then I need a holiday because I need to take few days off just for me."
And while Inter's players suggested they would be celebrating on Sunday night, no-one was forgetting that their biggest match is still to come.
"This is an incredible joy, a reward for all the hard work we've put in over the year," said Milito.
"From tomorrow we will think about that great Champions Lague final."
Inter captain Javier Zanetti insisted his team were worthy winners, but his attentions had also turned to Bayern.
"At the end the strongest team won but congratulations to Roma for a fine season," he said.
"Now we need to think about another final but for the moment we'll celebrate this fifth (straight) title which we deserve."
Troubled teenage forward Mario Balotelli expressed his desire for the victory to help mend the bridges he had burnt over the season in the eyes of many fans.
Balotelli angered supporters after Inter's 3-1 victory at home to Barcelona in the Champions League semi-final first leg when he threw his jersey to the ground.
But he has since been forgiven and although he was previously jeered, he was cheered when substituted on Sunday.
"I'm very happy about winning this title, it's a fantastic experience," he said.
"Right now I'm at Inter and next there's a Champions League final which we have to win because it's the pinnacle.
"As for the fans some ugly things happen but if there's mutual affection those can be resolved."
Inter president Massimo Moratti suggested he was never worried that the team could lose the title.
"It was a great game, even the Siena goalkeeper was running to not lose time," he said.
"We deserve this title. Was I ever afraid? Roma only led for two Sundays, that's it."
Roma coach Claudio Ranieri was gracious in defeat and pointed to his team's 24-match unbeaten run during the season and the fact that they fought back from a 14-point deficit to Inter in November.
But he stopped short of congratulating Mourinho, with whom he has had a running feud.
"Congratulations to president Moratti because he's built a great team and I wish them luck in the Champions League final," he said.
"But we were the true protagonists in the league this season for what we did.
"I can't tell you if I believed we would win it or not, I wanted us to fight to the last second.
"I could have believed it if Inter had been drawing or losing at the end."
And there was no bitterness about losing the lead they had at the end of April before a 2-1 home defeat to Sampdoria handed the initiative back to Inter.
"We didn't lose the title, we did something fantastic," Ranieri insisted before expressing his ironic desire for Mourinho to stay in Italy.
Mourinho on Saturday responded to claims by Ranieri that the Portuguese bored him by stating on Inter's official website: "What is the boredom of Ranieri?
"I studied and all I know is 'The Nausea' of Jean-Paul Sartre, philosopher, Nobel Prize winner but also a great football fan."
With tongue firmly in cheek, Ranieri added: "I would miss Mourinho because before he insulted me but now he's bringing out literary quotes, of course I'd miss him."