HELSINKI, March 15, 2010 (AFP) - Injured former England captain David Beckham will undergo surgery at a Finnish hospital on Monday afternoon, orthopedic surgeon Sakari Orava told AFP.
The 34-year-old looks set to miss this summer's World Cup after picking up the career-threatening injury in AC Milan's 1-0 Serie A win over Chievo at the San Siro on Sunday.
"He will arrive in the afternoon, between 3:00 and 4:00 pm (1300-1400 GMT)," Orava confirmed.
Orava explained that the operation at the sports injury clinic of Mehilaeinen hospital in the western city of Turku would take less than an hour.
Beckham twisted his left ankle during the final minutes of the match, making him unlikely to feature in a fourth World Cup finals.
He limped off the field and was stretchered away in pain and in tears.
"It seems the problem is his Achilles tendon. We will have to see whether it's completely severed, partly severed, or something in between," Orava said.
"His recovery will depend on what kind of an injury this is, but it will likely take several months before it is completely healed," Orava said, adding Beckham could likely begin "light training" in a couple of months.
Asked about Beckham's prospects of recovering in time for South Africa, Orava said this "seems a little uncertain, even though I haven't seen him yet."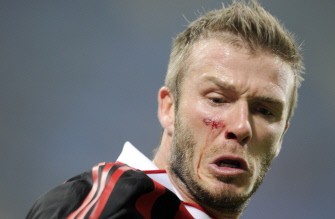 David Beckham is injured on his right cheek during the Italian Serie A football match AC Milan against Chievo on March 14, 2010 at San Siro Stadium in Milan. AFP photo
The World Cup gets underway on June 11.
Beckham was expected to remain in Finland for "a minimum of a couple of days" to recover, Orava said.
Orava added he had previously only seen Beckham on television, but had treated the football legend's teammates from AC Milan and England.