BERLIN, May 17, 2010 (AFP) - Germany captain Michael Ballack has been forced out of the World Cup finals due to an ankle injury which has sidelined him for two months, the German football federation (DFB) said Monday.
Chelsea forward Ballack was told he could play no part in the June 11-July 11 finals after a scan revealed the severity of an ankle injury suffered in the FA Cup final win over Portsmouth on Saturday.
"It's hard to accept, of course I'm disappointed," said Ballack.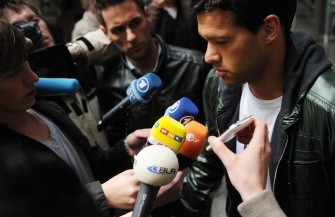 Michael Ballack, captain of the German national football team, addresses journalists as he leaves the practice of sport medicine specialist Hans-Wilhelm Mueller-Wohlfahrt on May 17, 2010 in Munich, southern Germany. AFP photo
Germany coach Joachim Loew, speaking from one of Germany's pre-World Cup training camps in Sicily, said: "We're going to work to find a good solution."
Ballack limped out of the FA Cup final win after a heavy tackle by Pompey's Kevin-Prince Boateng, who ironically plays for Germany's group D opponents Ghana, and was left sweating over his World Cup chances despite X-ray scans revealing no broken bones.
Boateng, who also went on to miss a penalty in the second-half that would have given Portsmouth a 1-0 lead, said that he had not intended any harm to Ballack.
"I can only but say I am sorry," the 23-year-old Germany-born midfielder told the website of Sport Bild.
"I was late and I tackled him head on, it was really stupid. I apologised to him twice on the pitch, and now this makes it three times.
"I am really sorry, but there was no ill-intention meant."
Prevented from undergoing a MRI (magnetic resonance imaging) scan Sunday due to heavy swelling, a scan Monday by DFB doctor Hans-Wilhelm Muller-Wohlfahrt finally brought the news Ballack did not want to hear: a partially torn ligament and an eight-week layoff.
The DFB said in a statement: "His right ankle will have to be immobilised and put in a plaster cast. He will then have to wear a special shoe for a further two weeks."
At 33 years old, the South Africa finals would likely have been Ballack's final World Cup campaign. He has 98 caps and 42 goals to his name.
DFB president Theo Zwanziger condemned Boateng's tackle, but said he hoped Germany would use the setback as a motivational tool.
"I can't stress how sad I am that Ballack has been the victim of such a foul. He has contributed enormously to German football in recent years and he should have played at this tournament," he said.
"It's hard to swallow, especially with him being only two ganes away from his 100th cap. Now the team has to get behind their captain, and go out there and try to win it for him."
Ballack is one of Germany's most influential players and news of his impending absence will not go unnoticed by Germany's World Cup group opponents Australia, whom they face in their opening game on June 13.
As well as Ghana, Germany will also face Serbia in Group D.
The latest injury is a blow for the Loew after goalkeeper Rene Adler was also ruled out last month.
And he must wait until May 24 before Philipp Lahm, Bastian Schweinsteiger and Mario Gomez can join the team after playing the Champions League final with their club Bayern Munich.
Loew could turn to Schweinsteiger, who has had a very good season with Bayern, who could act as playermaker beside Mesut Ozil.
He could also recall Thomas Hitzlsperger (Lazio), or even Torsten Frings (Werder Bremen), two veterans who had fallen out of favour.
The injury is a bitter blow for Ballack who is still looking for a first international success at his final World Cup after 2002 (2nd) and 2006 (3rd).
He started his career at Chemnitz before moving to Kaiserslautern (1997-99), Bayer Leverkusen (1999-2002), Bayern Munich (2002-06) and Chelsea.